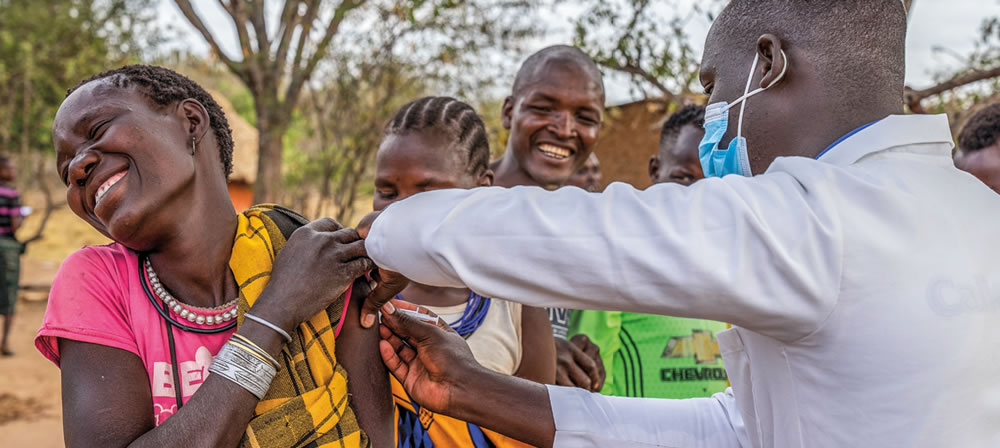 In 2021
Doctors with Africa CUAMM's 2021 activities in Uganda focused on three main areas: 1) helping to mitigate the COVID-19 pandemic by providing support aimed at keeping ordinary services accessible and ensuring their quality (most importantly maternal and child services, but also others); 2) supporting COVID-19 vaccination campaigns; and 3) formulating new projects, particularly in the Lango and Karamoja sub-regions.
CUAMM supported the COVID-19 vaccination campaigns started up by the authorities of 10 districts by assisting with logistics, transport, the supply of fuel supply, the cold chain, staff support, data registration/collection, and community awareness-raising campaigns. By the end of 2021, average vaccine coverage in the Lango region's Oyam District and nine districts in Karamoja was higher than the national average, providing a sense of hope for 2022.
With regard to new projects, a highlight is the mentorship program aimed at bolstering the skills of health workers in the area of maternal and child health (obstetric and neonatal emergencies, triage, early child development, adolescent health and infection prevention and control). Thanks to mobile teams of Ugandan specialist doctors who devoted their energies to tutoring (training, supervision and data management), CUAMM was able to assist 61 health centers, including hospitals, in 2021. Doctors with Africa CUAMM was awarded a note of merit by the Ugandan Ministry of Health for the results achieved.
Interventions for tuberculosis and malaria control and support to the Matany hospital got underway, and 2021 also saw the successful conclusion of our three-year program to improve food security and the nutritional status of communities in the sub-region of Karamoja in a sustainable, integrated manner, with a special focus on the most vulnerable mothers and under-5 children.
As part of the Mothers and Children First program, we proceeded with our support of Aber Hospital and surrounding health network in Oyam District, enhancing the intervention by adding an adolescent health component with services and activities at the health, school and community levels. There was much activity in terms of both the Junior Project Officer (JPO) program and research.
Last but not least, our mobile clinic program (surgical camps) to provide eye surgery to the local population, South Sudanese refugees, and other people settled in the West Nile region entered its second year.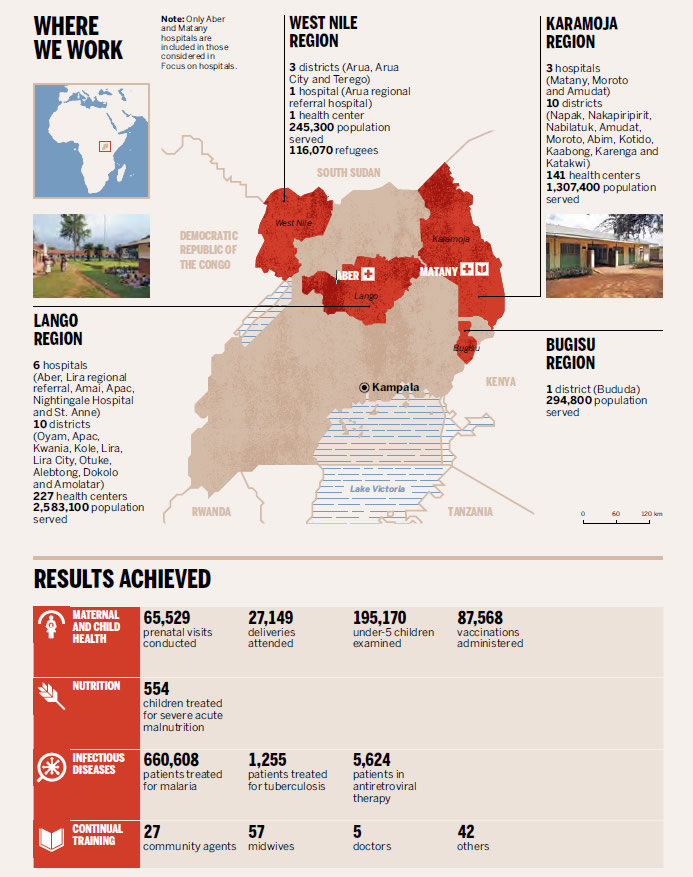 OUR HISTORY IN UGANDA
1958
First doctor sent to hospital in Angal.
1979
Bilateral health cooperation agreement between Italy and Uganda: CUAMM doctors begin working inside Ugandan health system.
1990s
Hospital in Arua rebuilt and hospitals in Maracha, Angal, Aber and Matany rehabilitated.
2012
"Mothers and Children First" program begun.
2016
"Mothers and Children First: The First 1,000 Days" (the period from conception through a baby's 2nd birthday) program begun.
2017
CUAMM returns to West Nile to support response to South Sudanese refugee crisis.
2018
Intervention launched throughout Lango sub-region.
2019
Project begun in support of eye health in Arua District.
Related News