«I was 16 years old when I had my first child. Now, I am 22 and I have been pregnant three times. Two of my children died of malnutrition, before they reached the age of one. I gave birth to my first two children at home only receiving one antenatal care visit and not receiving assistance after my delivery. Things finally changed when I was pregnant with my third child, because I received a free transport voucher that enabled me to deliver my baby at the nearest health facility, Ariba HC II. As soon as I went into labour, I called boda boda (motorbike) that took me to the health centre and I gave birth to my baby that night. The health personnel took care of us and ensured due vaccinations for my baby. A health worker gave me advice on family planning and how to take care of my child at best».
Jiuliet Tino lives in Oyam district, Uganda and is one of the women who over the last year has benefited from the free transport voucher scheme promoted by Doctors with Africa CUAMM within the project "Mothers and Children First. 1,000 Days" and thanks to the support of the Symphasis Foundation. As many other in the region, her family lives with very little money: that is why her children have suffered of malnutrition but she could never afford health care.
In Uganda, many women face the same challenges as Juliet. In particular, Oyam District, located in a rural post-conflict region in the northern part of Uganda, has one of the highest maternal mortality rate. More than a half of the population live below the poverty line and still the high majority of pregnant women receive only one over the four antenatal care visits (ANCs) recommended by WHO, as well as less than a half of them use institutional delivery services. Affordable transport and long distances to the nearest health facility are key obstacles in accessing maternal and new-born services for poor women in Oyam district. Motorized vehicles (boda bodas, cars) serve most communities but the cost of transport challenges care access and assistance.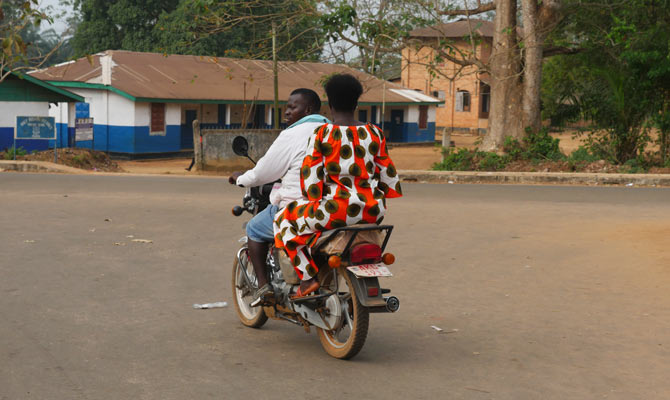 For this reason, the purpose of CUAMM's project in Oyam "Mothers and Children First. 1,000 Days", thanks also to the support of Symphasis Foundation, working with the district Health Management Team (DHMT), is to improve both access to the health system and quality of maternal and newborn health services. CUAMM successfully contributed to promote incentives mechanisms in the community, such as a free transport voucher system and motorbike ambulances.  «Voucher scheme is a really fundamental tool – Susan Achan, a midwife in Ariba HC II, adds –. It leads to increase the number of safe deliveries, providing village health teams with the opportunity to share health messages and additional services to mothers and babies».
Just like Juliet, Brenda Akot is another one of the many women who benefited from this effective service, and today she is happy with her child.
«CUAMM saved me and my baby's life. Do not stop your work here. Look out for more mothers like me and help them. We know that when a mother dies, her children are less likely to survive We want a Uganda where no mother dies because she cannot afford the transport to reach the health facility. We want a Uganda where every woman has the right to a safe and assisted delivery».
All these women's words demonstrate how transport voucher scheme has played a critical role in accessing safe and quality maternal and child healthcare. 
Related News