Christian Blind Mission (CBM) Uganda in partnership with Doctors with Africa CUAMM have launched a new project for eye care in Northern Uganda: "Foreseeing Inclusion: Eye Health and Disability Inclusion in Northern Uganda". This three years' project, funded by the Italian Agency for Development Cooperation, will be implemented in three districts of Arua, Kitgum and Lamwo. The launch was officiated by Dr. Joyce Moriku Kaducu, the State Minister of Health-Primary Health Care, and the Italian Ambassador H.E Massimiliano Mazzanti, along with other local government and districts officials.
According to the Uganda national census 2014, Northern Uganda accounted for 32% of all individuals with visual impairment with 75% avoidable blindness. Poor coverage of basic and secondary level eye care services largely contributed to this. The situation worsened even more in 2017, due to the increase of South-Sudanese refugees and the consequent overcrowding of the existing eye health facilities. The project, in collaboration with the Ministry of Health, arose from the need of the communities in the 3 districts and aims at contributing to the reduction in the prevalence of avoidable blindness by 2021, in line with the 4th Eye Health Action Plan 2016-2020.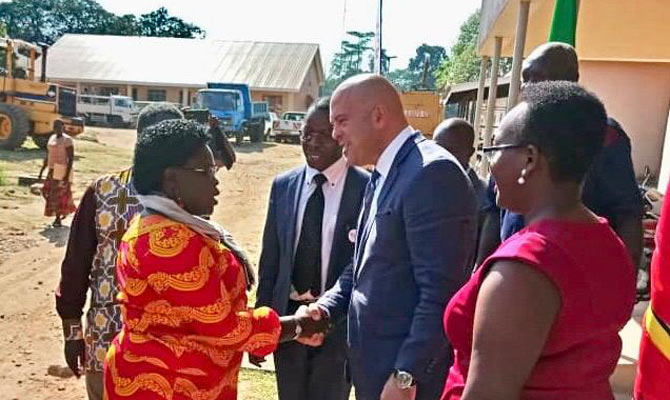 «Awareness raising activities and primary prevention on eye defects are essential and they should be the key pillars of the project – the Minister Hon. Joyce Moriku Kaducu emphasized –. I support the decision to implement the project into those districts where the burden is really high among the locals and the refugees from South Sudan».
Dr. Peter Lochoro, CUAMM's Country Representative in Uganda, gave a highlight of the work of CUAMM in Uganda especially in West Nile for over 50years: «I am grateful to the Ministry of Health for giving CUAMM the platform for implementing our projects and the local governments for integrating our work for better service delivery». «West Nile region remains a priority for the Italian government and I hope this project is just the beginning of many other bigger projects supported by the Italian government» concludes the Italian Ambassador Massimiliano Mazzanti, highlighting CUAMM's long-lasting intervention thanks also to the welcoming nature of the locals.
Related News