On November 27, Doctors with Africa CUAMM UK and the King's College London Italian Society hosted the inauguration of Crossing the River, a photo exhibition by Valeria Scrilatti and Emanuela Zuccalà, part of a reporting project dedicated to African women on the frontline against maternal mortality.
Almost one hundred people took part in the opening night at Somerset House East Wing, following Emanuela Zuccalà and Valeria Scrilatti in the presentation of the project. It has been an occasion to discuss about maternal mortality in Africa and to discover how solidarity between women can be one of the keys to promote women's right to health, also creating partnerships between NGOs, the private sector and public health systems.
Betty, Flaviour, Halima, and Natalia are health professionals in Uganda, Sierra Leone, Nigeria and Mozambique, nations with very poor women's health indicators. They do not know each other, yet these four African women are engaged in the same battle against one of the most resistant and anachronistic wounds that affect their continent: maternal mortality.
Every year in the world 303,000 women lose their lives due to complications related to pregnancy and childbirth. If 99% of maternal deaths occur in developing countries, sub-Saharan Africa alone accounts for 66%. Here, for a woman, a natural event such as motherhood can turn into an unpredictable adventure, like crossing an unknown river.
The exhibition will be open until 23 December 2019 at Somerset House East Wing – King's College London (Archeology Room, Floor -2; from Monday to Friday, from 9 AM to 6 PM; free entry, registration request on Eventbrite).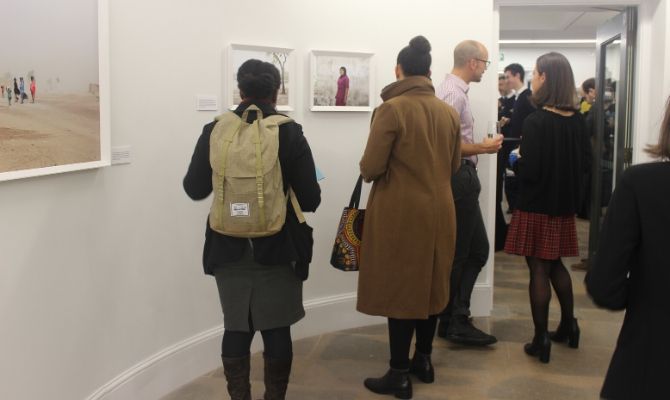 CROSSING THE RIVER: THE PROJECT
Crossing the River is a multimedia reporting project developed by Emanuela Zuccalà with Valeria Scrilatti. It has been produced with the support of the Innovation in Development Reporting Grant Program of the European Journalism Centre and the Bill & Melinda Gates Foundation, in collaboration with Doctors with Africa CUAMM.
The photo exhibition has been curated by Zona and financed through COP by Frame, Voice, Report! with the support of the European Union.
Crossing the River has been featured in eight countries, by relevant media such as The New York Times, El Pais and Courrier International.
Related News