On Tuesday 23rd July, 2019, Doctors with Africa CUAMM Uganda officially launched a new e-library at St. Kizito Hospital Matany Nursing School. Thanks to ELMA funding, CUAMM has been able to procure 15 computers for the nursing school to enable e-learning, facilitating research for the students to boost their performance. The three-year ELMA funded project aims at reducing maternal and neonatal mortality in Karamoja. In particular, the intervention provides scholarships, especially for Karimojong, increasing the quality of training and ensuring continuous education for new and already qualified midwifes and nurses in the region. Moreover, the projects supports district local governments in the health staff recruitment and management.
Many guests participated to the event: district representatives, the hospital administration, CUAMM officials, the nursing school management team and students at large. «I'm grateful for the scholarship and for this innovative opportunity – stated Owiny David Charles, one of the beneficiaries of ELMA foundation scholarships -. It will really ease the workload». He is the first of eight siblings and he lost his father when he was a child. Such events created a great threat to his education because his mother, a hospital cleaner, could not afford basic education for him and his siblings. Therefore, this scholarship came as a blessing because he had always wanted to serve his community.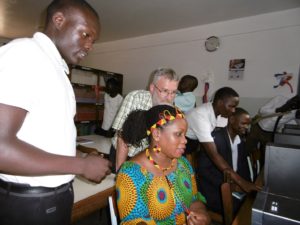 Important personalities expressed their appreciation for the e-library inauguration. «CUAMM is the longest serving partner of the nursing and midwifery school and Matany hospital – stated Rev. Sr. Nataline Mowo, the principle tutor for the Nursing school – the e-library, especially in the new digital era, is a great achievement for the school because it helps us teaching and give easier access for information and notes by students». «I really appreciate CUAMM and ELMA foundation team for the tremendous work done in the health sector – added Sr. Regina Narus, District Health Officer (DHO) Representative of Napak district – especially to the people of Karamoja through capacity building and development». «I'm grateful for the funding towards the e-library and the students' scholarships which benefit 90% of the students from the local communities of Karamoja – followed Hon. Lomonyang Joseph, LCV Chairperson of Napak district – ».
A clear message was pointed out during the inauguration: to appreciate and enjoy such an innovative opportunity,  continuing to enhance the commitment towards community services.
Ti potrebbe interessare anche