World Food Day is a very important occasion in which we want to reaffirm our dedicated commitment for nutrition. A commitment that we have been carrying out for years in African countries, where we operate by supporting national policies and programs, promoting food education and managing cases of acute and chronic malnutrition, which are still widespread in this continent.
This day promoted by FAO, which won the Nobel Peace Prize on 9 October 2020, calls for global solidarity to help the most vulnerable communities, which have become even more fragile due to the Covid-19 pandemic, currently underway. This is why we join the motto "Grow, Nourish, Sustain. Together" which also summarizes our commitment alongside the African populations and in particular alongside mothers and children.
Mothers and children are the most vulnerable social part. Unfortunately, it is often not only food that is lacking, but also the knowledge to cook nutritious meals with the available products. This is also one of the target of our "Mothers and children first. 1,000 days" program. This project aims to raise awareness among mothers on the topic of food and to support them in the crucial period of their life, which goes from the beginning of pregnancy to the two years of the child's life, ensuring all the visits, food and all the needed support in this delicate age of development.
Within the food projects that we promote, community activities are also of great importance such as the Village Health and Nutrition Day, awareness raising event promoted by Doctors with Africa CUAMM as part of the Unicef-Tubadilishe project, on the World Food Day occasion. The purpose of the event is to involve the community on nutrition issues through cooking demonstrations, food education and measurement services for children under five, to assess their nutritional status. During the event, there will also be demonstrations on the breeding of small animals to diversify protein-rich foods for domestic consumption and demonstration of the cultivation of nutritious products in order to guarantee consumption throughout the year for families.
"Practical learning in food preparation based on five food groups helps to broaden community awareness in changing the eating pattern. As the Village Chairperson I will encourage the community to participate to health days and village nutrition days on a quarterly basis to continue learning more about proper nutrition intake to help reduce malnutrition in the community. " says Ikuna village chairman Hezekiah Michael Mwenda.
Only together, it is possible to make a remarkable difference and for this reason Doctors with Africa CUAMM continues its dedicated and daily commitment "with" Africa.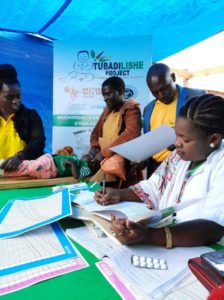 Related News