April 25 is World Malaria Day. With a story from South Sudan, Doctors with Africa CUAMM is drawing attention to a disease now unknown in the West that continues to claim thousands of victims each year in poor countries.
According to data from the World Health Organization (WHO), 229 million cases were diagnosed in 2019 worldwide, with 94% in Africa, resulting in 409,000 deaths. In 2020, over 2,166,000 cases of malaria were diagnosed in the 23 hospitals supported by Doctors with Africa CUAMM, to which 1,261 deaths were linked. Thirty-nine percent of cases were children under 5, which sadly made up 57% of the victims. Meanwhile, in an already fragile context, the Global Fund to Fight HIV, Tuberculosis and Malaria reported that in 2020, due to COVID-19, malaria diagnoses fell by 31%, suggesting that there will be many more victims who do not receive adequate treatment.
From South Sudan — where Doctors with Africa CUAMM runs a project to improve the prevention and diagnosis of malaria starting from the villages of the former Amadi State — comes the account of Peninah Nabulega, a midwife who works at Lui Hospital and recently cared for Linda, a young mother who has already lost two children to malaria.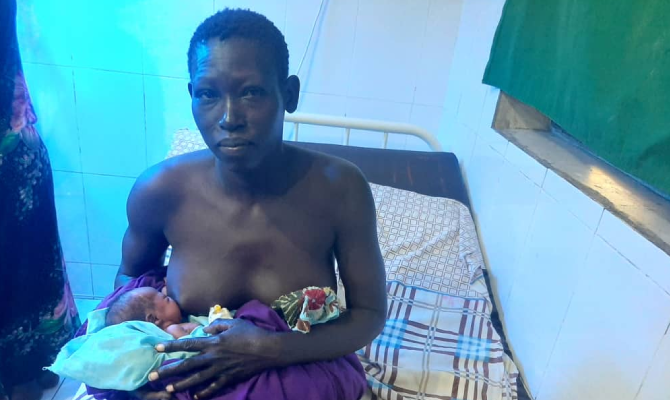 "Linda Joseph is a 26-year-old woman from Mvolo County," says the midwife, ", which is over 80 km away from Lui Hospital where I work. In the dry season, the health center she came from is four hours away by car, and when it rains, it is not reachable at all. This is her sixth pregnancy, but she has only two living children. Three of her other pregnancies did not come to term, in two cases due to a malaria infection. She was brought here to the hospital after three days of waiting in the health center. She felt weak and had headaches and swollen legs. After two different tests, we confirmed that she had malaria again and put her under treatment. She was very scared, because she remembered how her other two pregnancies had ended due to malaria, and unfortunately after a day of treatment her labor began early. Her baby was born weighing 1.6 kilograms. He is small but stable and is nursing and gaining weight. Linda has finished her cycle of treatment and we are about to discharge her with her baby. Together they will join his four- and seven-year-old brothers in the village where the rest of the family awaits them."
The project "Strengthening the Response to Malaria in South Sudan," funded by the Italian Agency for Development Cooperation (AICS), involves Lui Hospital and 42 outlying health centers. It aims to bolster the fight against malaria throughout the country by not only providing medicine and equipment to prevent and diagnose the disease, but also training local staff and creating a team of community health professionals who can treat malaria cases in their own villages. An operational field-research project is also being developed with the University of Pisa to evaluate the efficiency of the laboratories performing the tests and find ways to improve them by enhancing diagnostics.
In South Sudan alone, in 2020, Doctors with Africa CUAMM recorded 331,000 cases of malaria and 243 deaths; 128,000 were children under five, 114 of whom died. Mosquito nets remain the most effective prevention tool but are still too expensive to distribute in large numbers to families.
Related News