Every year in sub-Saharan Africa, 265,000 women die from childbirth, and 1.2 million children die in their first month of life. And one child in three under five years old is undernourished. And one pregnant woman in three is also undernourished. This puts them at particular risk for illness and death.
The objective of the First 1,000 Days for Mothers and Children program (2017–2021) is to provide nutritional interventions to support mothers and children in the first 1,000 days, from the start of pregnancy through the first two years of the child's life.
The project aims to reach all seven sub-Saharan African countries where Doctors with Africa CUAMM works (Angola, Ethiopia, Mozambique, Tanzania, Sierra Leone, South Sudan, and Uganda) in 10 hospitals and the local communities to achieve lasting, tangible results in reducing maternal and child mortality.
Let's relive the highlights of our Annual Meeting 2016 program presentation. 
Our goals
In the next five years, we will work to:
attend 320,000 births in 10 hospitals and local districts in all seven countries in which CUAMM works (covering a total population of ​​about 3 million people);
treat 10,000 children for severe malnutrition;
support 50,000 children in their growth to combat chronic malnutrition.
Practical action in 1,000 days
In the new project phase, "The First 1,000 Days for Mothers and Children,"  we will focus on providing care for the first 1,000 daysof life, starting from the pregnancy (lasting 280 days) through the first two years of the child's life. This care encompasses a greater time period at a truly delicate part of the lives of a mother and her child.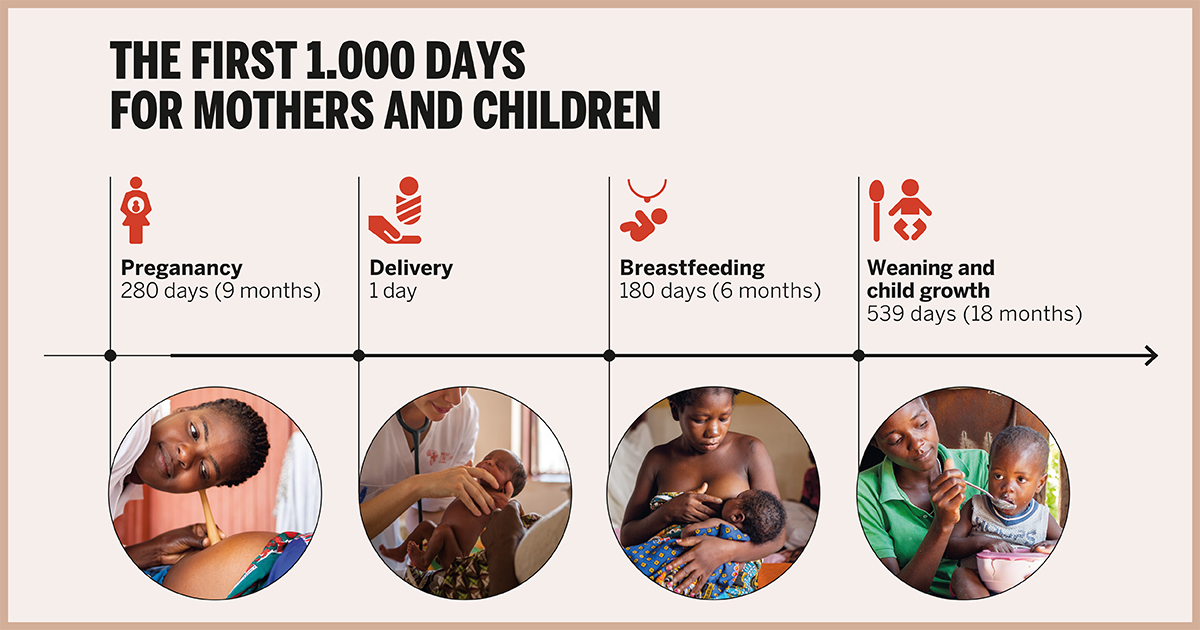 We focus on nutritional education for women during pregnancy and for newborns.
We will focus on certain diseases that put the development of the fetus at risk, such as hypertension and diabetes during pregnancy, providing basic, effective treatment for the mother and fetus.
After the child's birth, we help support exclusive breastfeeding up to six months, and we monitor children's weight and growth, as well as manage chronic and acute malnutrition.
We will train health workers to support newborns and their growth, both at the hospital and after they are home.
You can be part of the project, too!
It takes only €6 a month to support a mother and child throughout the entire 1,000 days, including:
15 € to provide an ambulance service
Donate now
40 € to provide safe, free birth
Donate now
80 € for vaccines and growth check-ups during weaning (18 months)
Donate now
150 € for treatment to one child with acute malnutrition requiring hospital admission
Donate now
200 € to help a mother and her child for the first 1,000 days
Donate now
Adopt a mother and her child
With a donation of €6 a month, provide health care for the first 1,000 days of life, the most delicate, difficult period.
Adopt a mother and her child with an ongoing donation 
Adoption form
—
Organize an event in support of the program
You can support the "First 1,000 Days for Mothers and Children" program by organizing an awareness-raising and fundraising event.
For more information, please contact:
Laura Braga
l.braga@cuamm.org

Why we fight malnutrition?
Different forms of malnutrition contribute to almost 50% of child deaths and cause irreversible damage to their growth. This is why the fight against malnutrition is one of the Sustainable Development Goals (2015–2030).
Malnutrition can already be a problem at the time of conception. Pregnant women who do not have adequate nutrition and do not take iron, folic acid, and who do not take anti-malaria measures, can become anemic, which affects both their health and that of the fetus, which risks being born underweight.
If the child is not properly breastfed and not fed adequately, he or she might develop chronic malnutrition.
Children with chronic malnutrition survive, but they have severe cognitive deficits and mental disabilities. In severe conditions (famine), acute malnutrition may develop and they may die.
"Mothers and Children First": goal reached and surpassed!
Read the details of the program's first phase.
Let's relive the highlights of the Annual Meeting 2016.
Related News