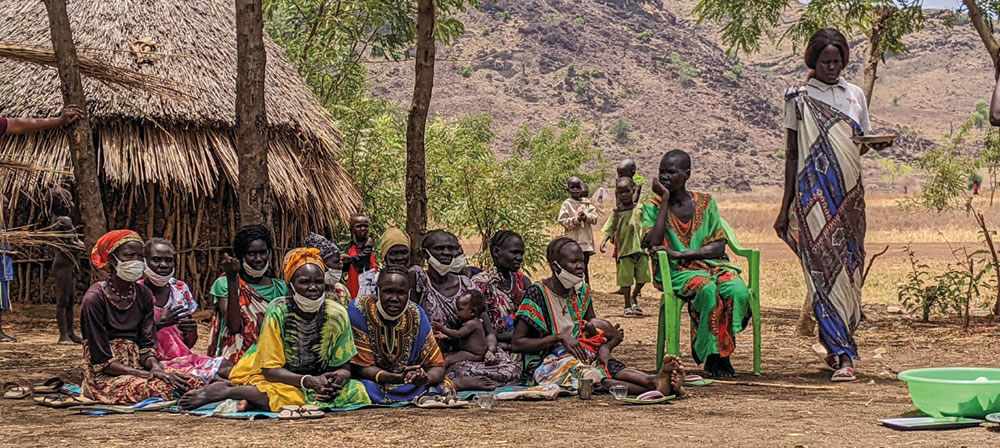 In 2021
The COVID-19 pandemic brought both direct and indirect consequences for Ethiopia in 2021. CUAMM carried out an intervention in Addis Ababa in partnership with the local health authorities of Kolfe sub-city to strengthen the delivery of basic services for reproductive and mental health and contain the spread of COVID-19 at three referral health centers for some of the city's most populous woredas. At the Wolisso Hospital in the South West Shoa Zone, international staff was made available to support key services such as internal medicine, pediatrics and health management; however, the COVID-19- related restrictions led to a marked drop in people's access to these services, which led in turn to a heavy cost burden. Despite the challenging financial situation, in 2021 the Wolisso Hospital's new neonatal unit became fully operational, and national guidelines on neonatal intensive care were developed in partnership with Ethiopia's Ministry of Health, the Ethiopian Pediatrics Society, the St. Paul's Hospital in Addis Ababa and the district hospital of Tulu Bolo in the South West Shoa Zone.
The impact of the pandemic was less severe in the more isolated areas where Doctors with Africa CUAMM is active. In the South Omo Zone, our maternal and child health intervention continued with support for the Jinka and Turmi Hospitals, as did our intervention in the Gambella Region to support South Sudanese refugees living in the Nguenyyiel refugee camp, with activities to improve infrastructure, equipment, staff training and the referral system. We also implemented activities in partnership with the Ethiopian Ministry of Health and the Ethiopian Diabetes Association to improve diabetes services in 15 national hospitals. In the Somali Region's Harawa District, our health intervention in partnership with a local NGO proceeded with activities to improve infrastructure and train staff at the district health center. Yet another invention was begun in the districts of Aw Barre and Bokolmayo.
The conflict in the Tigray Region, which had begun in November 2020, worsened in November 2021, spreading to the neighboring Afar and Amhara Regions. This led the federal government to declare a state of emergency, forcing CUAMM to suspend its intervention there in support of 6 health facilities. Exacerbating things further, the economic situation continued to deteriorate, with an ongoing currency devaluation and an inflation rate that jumped to 35% in December 2021.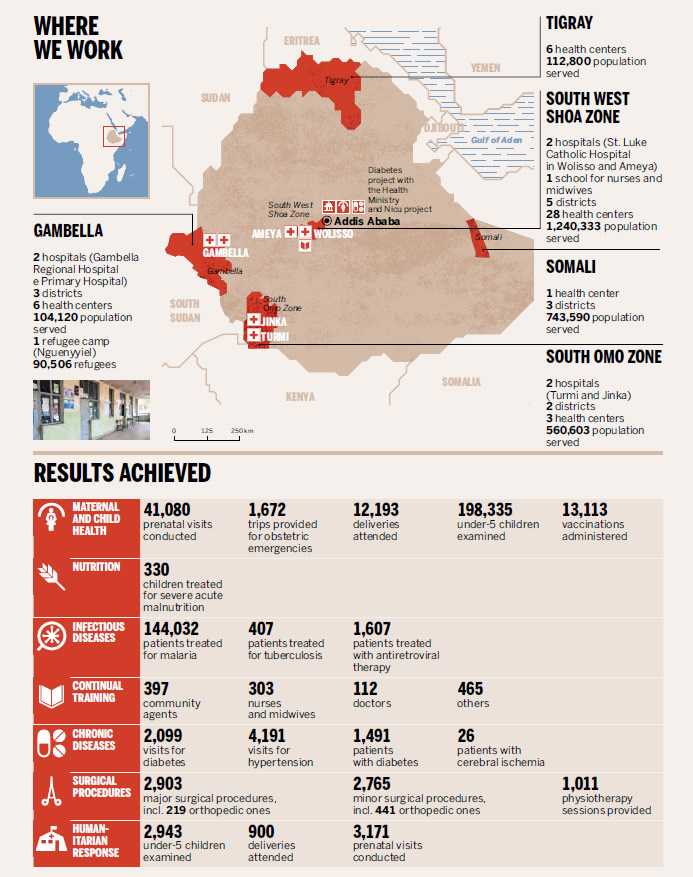 OUR HISTORY IN ETHIOPIA
1980
First doctor sent to the Gambo leprosy hospital.
1997
Agreement made with the Ethiopian Episcopalian Conference for construction of the St. Luke Catholic Hospital in Wolisso with an attached school for midwives and nurses.
2012
"Mothers and Children First" program begun.
2014
Intervention started up in South Omo.
2016
"Mothers and Children First. The First 1,000 Days" begun.
2017
Intervention including support for South Sudanese refugees started up in Gambella Region.
2018
CUAMM's partnership with the Ethiopian Ministry of Health strengthened with launch of two technical assistance projects.
2019
Wolisso hospital recognized by Ethiopian Medical Society (through Ethiopian Health Minister Dr. Amir Aman) as best-performing hospital of the year.
2020
Project begun in Harawa District, Somali Region, with infrastructure improvement and personnel training activities.
Related News