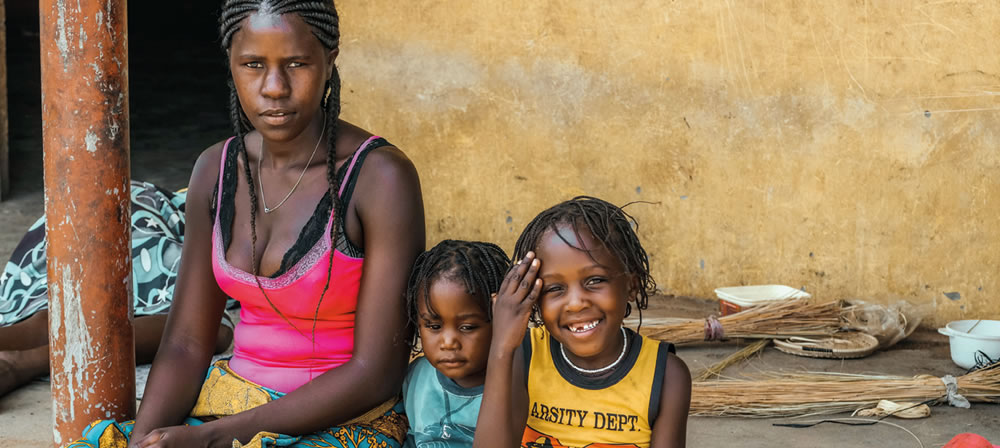 In 2021
The COVID-19 pandemic had a severe impact on project implementation in Angola throughout 2020. Fortunately, in 2021 CUAMM was able to restart a program we had had to suspend earlier because of the impossibility of getting health personnel to the area: interventions to tackle acute malnutrition in the Cunene Region,  hich is increasingly battered by long periods of drought.
Work also continued on the project in Luanda to fight and prevent infectious diseases (HIV/AIDS), including providing PPP and sanitizing materials to tackle the  spread of COVID-19 to health centers and the health staff with whom we collaborate. Another project in support of 3 hospitals and 5 health centers in Luanda was approved and launched with the aim of improving diagnostic services for tuberculosis patients and digitizing health records with a new focus on COVID-19 as well.
We also continued our support in the area of maternal and child health to the Chiulo Hospital in Cunene Province. CUAMM's on-the-ground presence made it possible to train health staff working at the hospital and in peripheral health centers on the management of malnutrition in children and obstetric emergencies.
In addition, we ensured the continuity of our public health activities with brigadas moveis (mobile brigades that provide vaccinations for children and the distribution of iron and folic acid supplements to pregnant women) that traveled to 33 villages in Ombadja Municipality. The support provided to pregnant women staying at the maternity waiting homes (casa de espera) continued without interruption, including the presence of traditional midwives who carried on their outreach and awareness-raising activities in the municipality
Read more about previous intervention.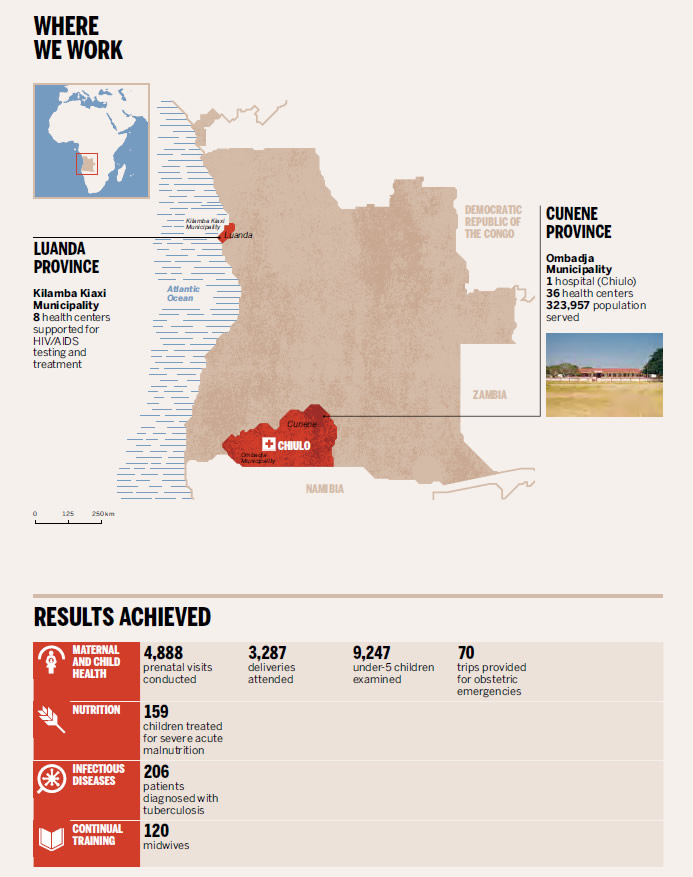 OUR HISTORY IN ANGOLA
1997
Intervention begun in Uíge Province to tackle the emergency brought by the civil war.
2004
Health system support provided in Luanda and in Uíge and Cunene Provinces during the transition from emergency response to development work.
2005
Program begun in support of the National Tuberculosis Control Program with funding from the Global Fund, and continued until 2016.
2012
"Mothers and Children First" program begun at the Chiulo Hospital in Cunene Province; its aim is to ensure access to safe deliveries and care for newborns in four African countries.
2014
Innovative intervention in Luanda to improve the diagnosis of tuberculosis, diabetes and hypertension.
2016
Launch of "Mothers and Children First. The First 1,000 Days" (the period from conception through a child's second birthday).
2018
DOT pilot program begun in six municipalities in five provinces. Thanks to a photovoltaic system, electricity is ensured for the hospital in Chiulo.
2019
Integrated program to tackle acute malnutrition (FRESAN) begun in Cunene Province.
Related News