The critical situation is ongoing in Beira after Cyclone Idai destroyed much of the city and cut off communications to the rest of the country. Telephone lines are still down and roads have been destroyed. Relief supplies can only be brought with helicopters and small planes. Heavy rains are expected in coming days bringing the risk of more flooding and deaths. The number of deaths is still uncertain, estimated at over a thousand. 30 health facilities have been destroyed, according to the Mozambican Institute for Disasters, INGC, including large parts of the Central Hospital of Beira where Doctors with Africa CUAMM is active.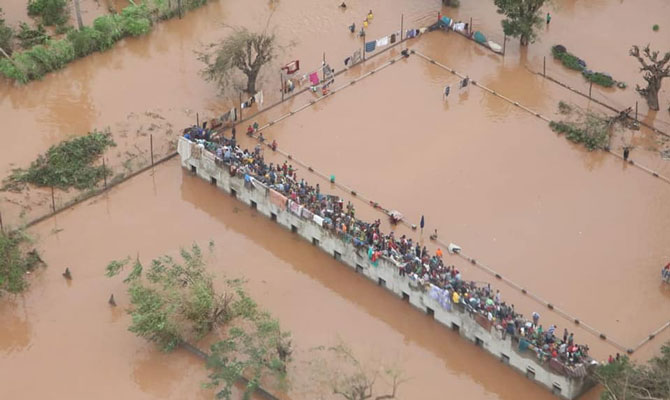 (Photo credits: INGC, Instituto Nacional de Gestão de Calamidades)
Giovanna De Meneghi, Doctors with Africa CUAMM's country representative for Mozambique, says, "The situation is still dramatic. The emergency is still in its acute phase, though it has been a few days. Today, March 20, a state of emergency was declared with three days of mourning for the entire country. It is still raining, and the emergency code red is active for flooding , which could further raise the water level in the areas around Beira, already flooded because of its location below sea level."
De Meneghi continues, "The district of Buzi has been most affected. The water has reached seven meters high there, and people are still on the roofs of houses and trees. The area must be completely evacuated as soon as possible. In outlying areas, 400,000 people are still completely inaccessible. In the city of Beira, the cost of food has soared and it is difficult to find drinking water. There have been a series of raids on homes, including violent ones."
Now we need to help manage the emergency, coordinating with local authorities and other partners. De Meneghi continues, "With the main emergency department out of use and many buildings destroyed, we urgently need first aid kits in the field hospitals to provide emergency treatment and medications for trauma. We also need food, clothes, drinking water and building material for emergency shelters."
You can support Doctors with Africa CUAMM's action with a donation on our site, purpose "Mozambique cyclone emergency".
Ti potrebbe interessare anche