According to UN and official government sources, more than a million and a half people have been affected, and there have been at least 1000 victims of Cyclone Idai, currently hitting Mozambique, Malawi, and Zimbabwe. Beira is the hardest hit city in Mozambique. Our volunteers in Mozambique report a dramatic situation.
Giovanna De Meneghi, coordinator of the Doctors with Africa CUAMM projects in Mozambique, says, "Communications were cut off all day Friday and Saturday. We could not get in touch with our doctors in Beira. The reports that we have received are very alarming. The city is destroyed, pylons have been downed, the tops of houses are exposed, tin roofs are scattered everywhere, torn off by the violent wind that blew at 170 kilometers per hour, wreaking devastation throughout the city. The Central Hospital of Beira is in the most difficult situation. The operating unit cannot be used, nor can the neonatal unit (Berçario), which had been moved to the new pediatrics building, which then had its roof torn off. The emergency department, also with no roof, has no water or electricity, and the floor is covered in at least 5 cm of mud and water. A nauseating smell is everywhere. Dead bodies and the wounded keep on arriving. The hospital is trying to respond as well as it can, with its staff on 48-hour shifts. The roofs of the buildings of the Catholic University of Mozambique have been torn apart by the raging cyclone."
Communications are difficult between Maputo, the country's capital, where Doctors with Africa CUAMM's coordinators are located, and Beira, where CUAMM has had most of its projects for many years, dedicated to maternal and child health and fighting HIV.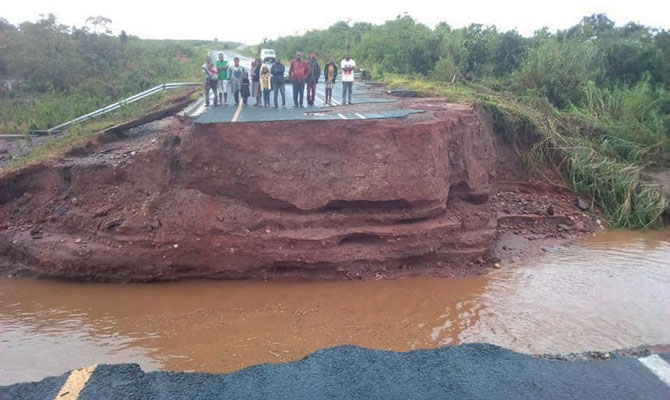 "The places our volunteers work daily have been hit, and we are all holding our breath to see what will happen to Beira and all of Mozambique in coming days," says Father Dante Carraro, Director of Doctors with Africa CUAMM. Our staff, though very worried, is safe. The greatest concern is for the local people, who are already taking action independently with incredible strength to make the roads accessible again. We are transferring our most experienced doctors from other parts of Mozambique to Beira, 90% of which has been damaged and will bear the brunt of the needs of the entire surrounding area, which cannot yet be estimated. If we do not act immediately, there is the risk of cholera spreading, which is endemic and already struck the area last year. Our first priority is ensuring that the Beira Hospital and ten surrounding health centers can keep on operating even in the emergency so that everyone can get care. Later, we will need to work on rebuilding. We need everyone's help."
International humanitarian aid is also being mobilized. WHO and the Mozambican Government Disaster Office (INGC) are already on site. Meetings are underway today with the Ministry of Health and all the partners involved in the emergency, which will give us a more exact picture of the needs and the fronts of action.
All of Doctors with Africa CUAMM's international staff members are safe. Some young medical residents have been evacuated to Maputo, and doctors with more experience have been transferred to Beira to help. The total number of victims is still unknown, and there is no information about conditions inland.
You can support Doctors with Africa CUAMM's action with an online donation on our site under the purpose:"Mozambique cyclone emergency".
Related News