New sections within Paediatric General and Emergency Department are being inaugurated today. The Paediatric Emergency Department has been redesigned in order to improve admission patterns and care services at Children's Hospital "Pietro Barilla" in Parma where a new waiting room and dedicated areas have been introduced. The new sections, inaugurated today, have been implemented by Doctors with Africa Cuamm in the framework of IRC19 project "Italia Response to Covid-19: Improving governance and community preparedness for a resilient society (IRC19)", supported by USAID, United States Agency for International Development.
Due to Covid-19 pandemic, our national health care system has been under strain over the last two years. We have to be ready to face unpredicted outbreaks setting an efficient triage system. For this reason we are inaugurating today the reorganization of the emergency department at Children's Hospital in Parma, meant to implement a safety protocol to segment Covid from non-Covid patients. The emergency department provides care and attention to around 20.000 children coming from all over the province and is now organized with clear pathways and specific areas dedicated to the little patients. In these days, our thoughts are with Eastern Europe, with Ukrainian people facing the inhumanity of the war but Covid-19 is not over yet. Altough vaccines are proved to be highly effective against severe illness, numerous patients still seek health care and assistance and many of them are children. This intervention will strenghten our preparedness and response to Covid-19 in the upcoming months.
Structural interventions including different waiting rooms and a dedicated area for paediatrics patients were designed in order to create parallel binary triage system to separate patients with fever from those who do not have. Moreover, another space with direct access from emergency room was designed for patients with suspected or confirmed Covid.
According to Dr. Massimo Fabi – General Director at Azienda Ospedaliero-Universitaria di Parma, "Covid-19 pandemic forced us to introduce structural and organizational changes while rethinking model of health care by introducing integrated services. The support provided by Doctors with Africa CUAMM and USAID (United States Agency for International Development) to the paediatric emergency department enabled us to strenghten our multi-specialist healthcare organization through logistics and effective pathways in a facility that receives around 20 thousands minors every year as the emergency department within Children's Hospital "Pietro Barilla"».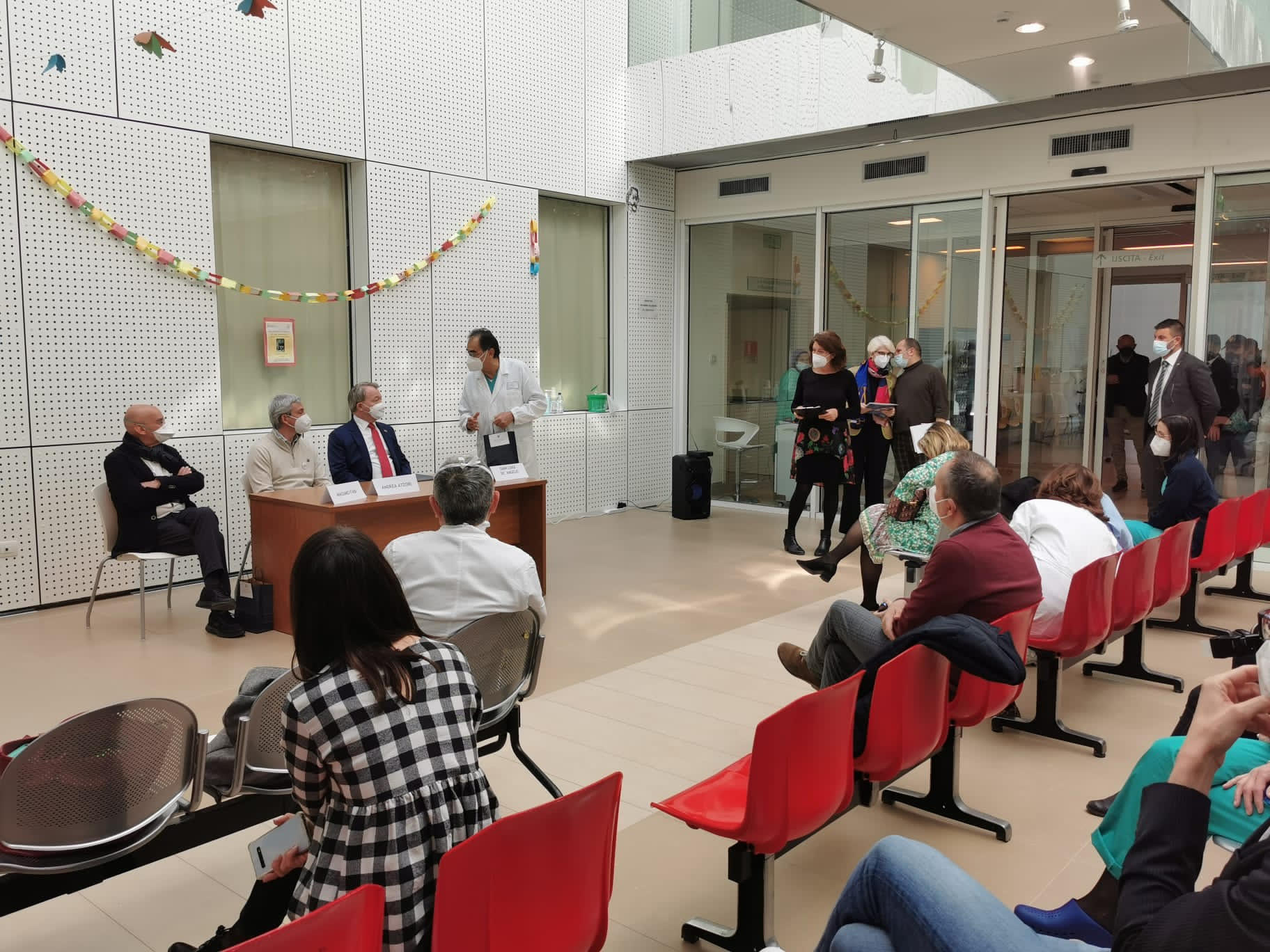 «Covid-19 proved that global health emergencies such as a pandemic require a global response – states Robert Needham, American Consul, US Consulate General Milan- Our work is still ongoing, however, we cannot forget that global response needs local partners. No amount of money can prevent Covid-19 from spreading without the efforts of driven, committed and generous partners such as Doctors with Africa CUAMM and Children's Hospital "Pietro Barilla". We are proud of the donation that USAID, on behalf of the American Government, gave to Doctors with Africa CUAMM to implement IRC19 project. Over the last two year, CUAMM have proved its competencies and resilience in responding to the pandemic. Hence, we would like to express our gratitude for this partnership».
«I wish to thank you all for this important donation – states Prof. Gian Luigi de' Angelis Director of Maternal and Child Health Department at Azienda Ospedaliero Universitaria in Parma- that contributed to rethink the triage system in our paediatric ward by segmenting Covid from non-Covid patients in the hardest time of this health emergency. Today, while atrocities are being committed in the world also against children whose safety should always be a priority for all, we deeply feel the value of solidarity.»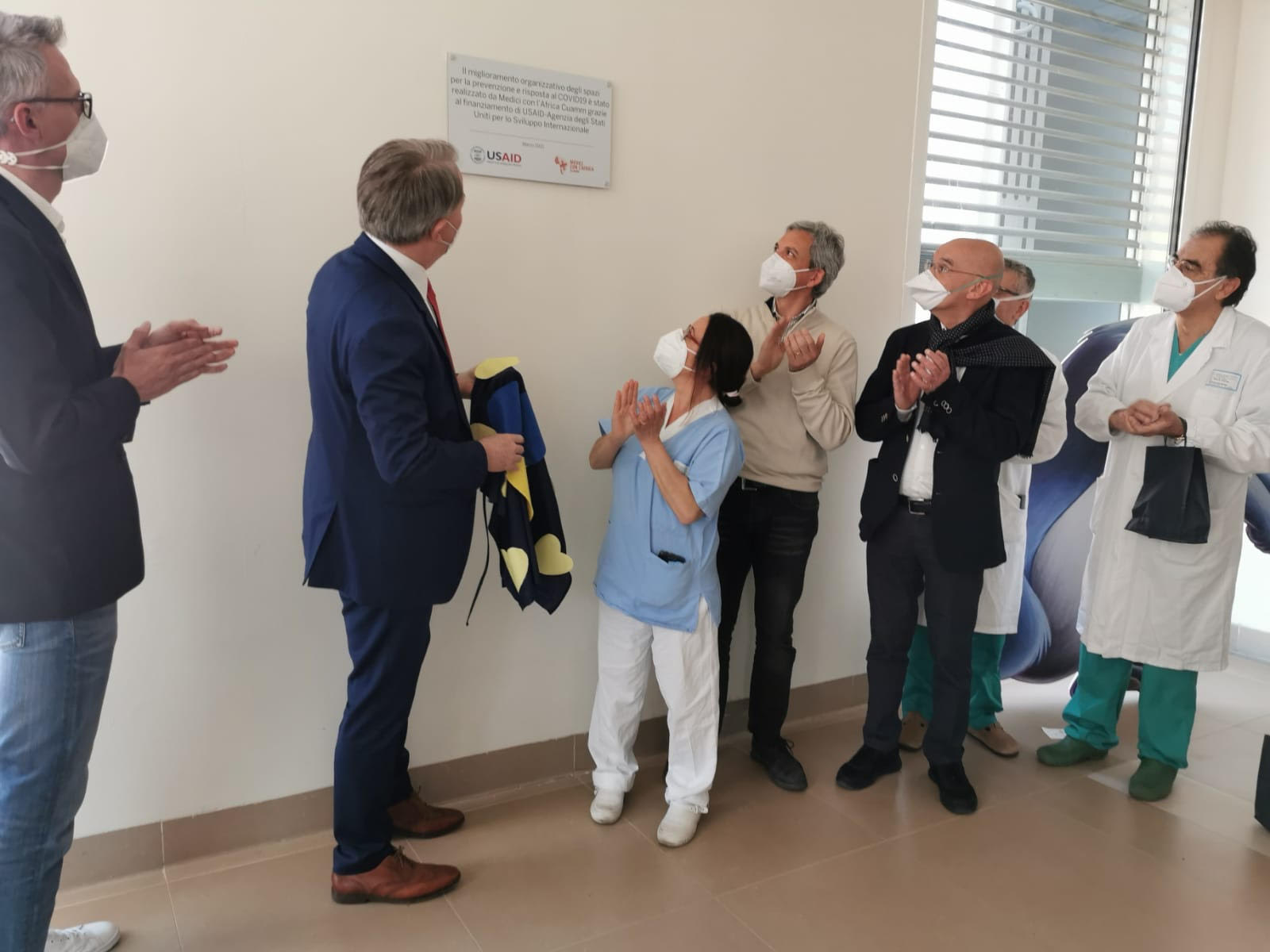 «The intervention at the Children's Hospital in Parma was realized by Doctors with Africa Cuamm to support health facilities during the pandemic – explains Andrea Atzori, Chief of Party IRC19 project and Head of International Relations at Doctors with Africa Cuamm-. Such intervention is part of a wider commitment that has been driving Doctors with Africa Cuamm over the last two years. With the backing of USAID we have supported 19 facilities in six Italian regions; have provided health care to vulnerable groups in Piedmont, Liguria, Campania and Apulia; we have set and managed a vaccination point in the province of Padua while also providing health workers with supplies of personal protective equipment and training program. In the meanwhile, we have never forget nor have we left behind our work for the promotion and protection of health in 8 countries in sub-Saharan Africa, ranging from implementing Covid-19 vaccination campaign to promoting maternal and child healthcare».
USAID (United States Agency for International Development) financing IRC19 project, is the world's premier international development agency working in over 100 countries.
The writing of this press release was possible thanks to the generous support of American citizens on behalf of the United States Agency for International Development (USAID). The contents are the exclusive responsibility of Doctors with Africa Cuamm, recipient of the Fixed Amount Award (FAA) No. 7200AA20FA00013 and do not represent the opinions of USAID or US Government.
Related News