The Joint Meeting of Ministers of Health and Ministers responsible for HIV and AIDS from Southern Africa Development Community (SADC) was held from 4th to 8th November 2019 in Dar Es Salaam, Tanzania.
Among the various themes, cooperation is a major pillar to sustainable health development and the fight against HIV and AIDS. Broader health issues were discussed, such as TB, Malaria, Nutrition. Doctors with Africa CUAMM was invited by UNICEF Tanzania, to present the best practices of its nutrition programme, Accelerating Stunting Reduction-TubadiLISHE in Iringa and Njombe Regions. The programme recently produced short video clips which demonstrate its multi-sectoral approach of implementation through 10 objects entitled 'Not Only Food': a doll, a measuring jug, a ladle, a motorbike, a brush, a watering can, a story book, a solar dryer, a village register, and a pot. The video clips were presented throughout the event, drawing significant appreciation from senior government officials of SADC Member States including the Secretariats of SADC. Further discussion was made for scaling up the utilisation of the video with an adaptation of the individual context of respectful states.
Stunting is a form of chronic malnutrition that is contributed by diverse causes from food security, socio-economic status, education, water, sanitation and hygiene, gender inequality to child rights and development. CUAMM's strategy of 'Not Only Food' amplifies the importance of the multi-sectoral approach to achieving meaningful, and sustainable impact to fight against malnutrition.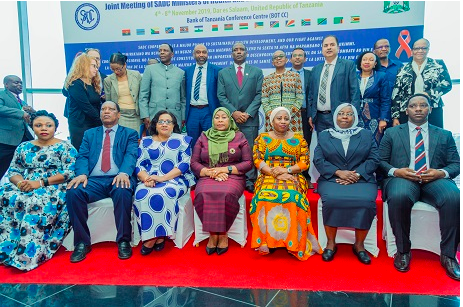 Hadija Halidi, Senior Nutritionist of the programme expressed her enthusiasm with her words:
«CUAMM is highly appreciated and well-known for its good work in the communities as well as with local authorities and institutions. It has been my pleasure to share what we are doing with other partners. 'Not Only Food, 10 objects against Malnutrition' initiative can be applied in any context where malnutrition exists».
The meeting was attended by high-level government officials from 14 out of 16 SADC Member States, namely: Angola, Botswana, Union of Comoros, Democratic Republic of Congo, Eswatini, Lesotho, Malawi, Mozambique, Namibia, Seychelles, South Africa, United Republic of Tanzania, Zambia and Zimbabwe. Furthermore, Regional Director of WHO, representatives of international cooperating partners, United Nations agencies, medical regulatory bodies, international organisations, civil society organisations and media participated in the event.
All together for a sustainable health development.
For watching the videos "Not Only Food. Ten Objects against Malnutrition":
https://www.youtube.com/playlist?list=PLNuZMuMnhgB5WPGjT_JCggi7BpYSGPqP9
For more info:
https://www.sadc.int/news-events/news/sadc-ministers-health-and-ministers-responsible-hiv-and-aids-meet-united-republic-tanzania/
Related News