On Friday 17 May 2019, in a colorful ceremony with distinguished personalities and media, Doctors with Africa CUAMM officially handed over the renovated regional blood bank at Arua Regional Referral Hospital, refurbished during the last 4 months.
Arua regional blood bank is meant to serve 9 districts of West Nile, a region with 3.38 million inhabitants including about 815,000 refugees from South Sudan. «Before the renovation, collected blood was sent for testing in Nakasero blood bank in Kampala and back to Arua, leading to loss of time and sometimes expiry of blood. Now, the required testing machine has been delivered to Arua and there is no more need to send blood to Kampala for testing; thus, collected blood is ready for distribution and use as soon as possible».
In West Nile, 20 transfusion sites are supplied with blood by the Arua regional blood bank regularly. Thanks to such a support, the blood bank exceeded its monthly target of blood collection from donors and sufficient blood was available for distribution. Doctors with Africa CUAMM has also supported monthly blood collection outreaches in Arua and Nebbi districts and the assessment of Health Centre IVs in Arua district to improve blood transfusion in the peripheral facilities.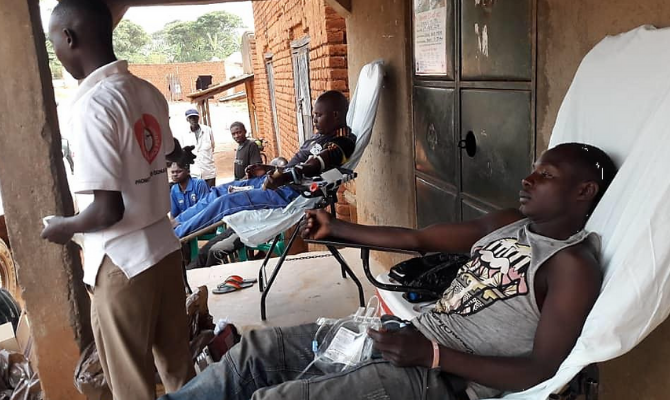 Blood transfusion is key in health service delivery, especially in the pediatric, trauma, medical, and maternity wards in the hospital. Absence of blood means death sentence of many patients. «The blood bank intervention is part of the successive support to Arua regional referral that included rehabilitation and service improvement in the neonatal and nutrition unit – Doctor Peter Lochoro, CUAMM country representative, explained -. I am glad about remarkable improvement in blood collection, availability and safety and I hope the staff will take care of the equipment provided».
Few challenges still remain, namely limited resources to support blood collection and delivery outreaches, limited blood storage, and unstable power supply to maintain a cold chain for the blood preservation. Nevertheless, our commitment with all the stakeholders will certainly continue to prevent many maternal and child deaths.
Related News