A few days ago, Jigjiga, capital of the Somali region in Ethiopia, hosted the launch event for an emergency intervention to support and strengthen the resilience of displaced persons, refugees, seasonal migrants and their host communities in the Somali region and areas of Ethiopia bordering Kenya and Somalia. This is the 'Revers' project, funded by the Italian Agency for Development Cooperation, implemented by the International Committee for the Development of Peoples (CISP), in collaboration with Doctors with Africa CUAMM and Action Aid.
Ethiopia is the second most populated nation in Africa after Nigeria and despite the economic growth recorded in recent years, the country remains among the poorest in the world. Since 2020 it has also had to deal with the effects of the Covid-19 pandemic and the even more dramatic consequences of the precarious socio-political situation, aggravated by the ongoing conflict in the regional state of Tigray.
Further complicating the picture is the humanitarian crisis in the Somali regional state, triggered by clashes between tribes and climate change that have caused the displacement of thousands of people – 845,000 according to OCHA estimates – worsening food security and increasing the fragility of the health system. There are an estimated 3.8 million people in need of humanitarian assistance in the Somali region alone.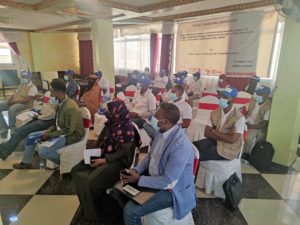 "This is a long-awaited project, which expands and strengthens the presence and support that CUAMM provides in the region, particularly in the two Woredas of Aw-Bere and Bloklomayo", says Riccardo Buson, CUAMM's representative in Ethiopia, "A project that will support refugees, internally displaced persons (IDPs) and host communities. We would particularly like to stress the importance of the partnership between CUAMM and the Regional Health Bureau, the regional health department of the Somali Region, because it is only through cooperation and mutual support that it is possible to develop projects together to reach communities in extreme need of support".
The objectives are diverse and closely integrated: to improve the food security of communities by supporting the development of the agricultural sector and promoting good hygiene and nutritional practices. And then, to strengthen the accessibility and quality of health services, both preventive and curative, in order to improve the capacity of health centres to respond to emergencies, in particular the Covid-19 pandemic and future pandemics. In addition, the project aims to strengthen the resilience and economic independence of populations by creating a community-based protection system, particularly for the prevention of and response to gender-based violence, and by enhancing women's access to income-generating activities.
Related News