Addis Ababa Airport, Ethiopia, kilometer 0
The wind brings frayed echoes of traditional music, mixed with the twittering of tiny birds. The city of the "new flower," as it is called in Amharic, wakes up. The Orthodox church is a short walk away and voices in prayer come from there. Our mission is beginning. First stop in the coordinating office, where we meet Riccardo, country manager, Cristina, administrative manager, Ademe, program coordinator. Together we focus on the projects that are ongoing in Tigray and Amhara, funded by the European Union (Echo) and Who. Ours is a planning work, preparatory and functional to everything else.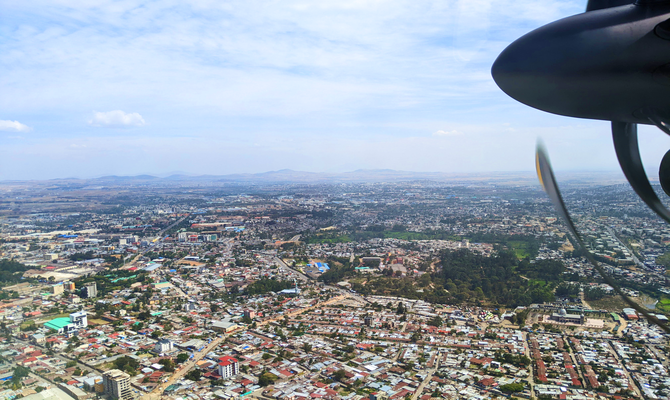 St. Luke's Hospital, Wolisso, kilometer 120
Despite a thousand difficulties, St. Luke's Hospital in Wolisso, southwest of the capital, is a source of pride for Cuamm. Over many years, a reality has been built that still holds up, allows us to be present in a fragile area and to enter with a qualified intervention in the Nicu, the neonatal intensive care unit, where babies live hanging by a thread. That's the significance of all our reports, papers, documents, and efforts. The hospital recently turned 20 years old… how many patients have been treated here! And even today all the wards are full. Two days ago a woman came in with postpartum hemorrhage, and despite very prompt care, she did not make it. Major cause remains, once again, the delay because of the distance from where mom gave birth to the hospital. Immense spaces of hills and barely passable dirt roads. Against such a backdrop, the waiting house remains the only safeguard to reduce risk. And meanwhile, hospital staff and management continue their daily struggles to ensure accessibility of care amid endless difficulties, such as drug shortages and power going in and out, often malfunctioning medical equipment.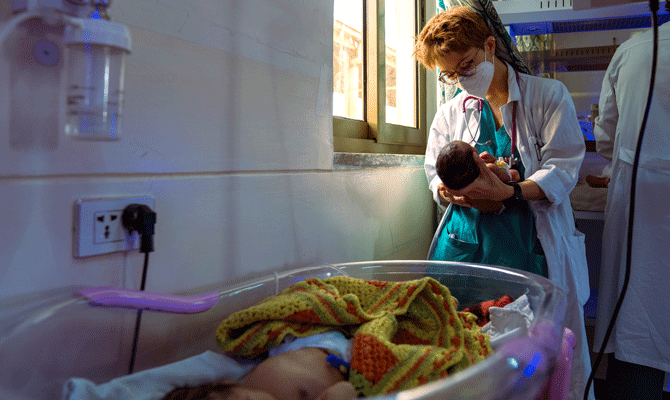 Today we experience Africa helping Africa firsthand. At a workshop with all Cuamm staff, we meet Ethiopian program managers: Tessau, Berhanu and Mary, the only woman, who manage a number of projects in the north of the country. These are local staff in a responsible role, with whom we have been collaborating for some time. The meeting is attended by the full Cuamm staff of 60 people. You can feel the change in the way of doing cooperation, with an Africa supporting Africa: the Ethiopian colleagues are real professionals, with master's degrees in health sciences, PhDs in public health and expertise that they offer to their country. Our accompanying them is sustainable, because they will soon be walking on their own.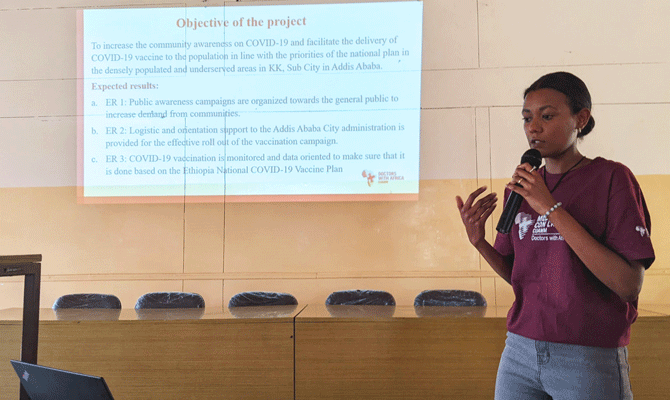 Jijiga, Somali Region, kilometer 600
A flight takes us to southern Ethiopia for a lightning mission. Abdissa, project leader, is waiting for us. We have been operating here since 2020; thanks to the support of the Trevisanato Foundation, we ensured the functioning of the health center by sending staff and mobile clinics. Then, the intervention expanded to two other districts, with support from Aics. The land is very arid, the population is migrant, and there are many refugees from Somalia.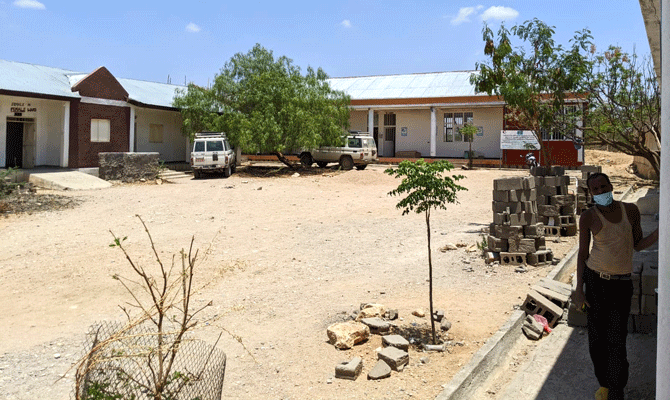 Dharwanaaji, Woreda, kilometer 665
From the capital city of Jijiga, driving 65 kilometers of dirt road, we reach the very health center of Dharwanaaji in the Hawara Woreda, inhabited by 130,000 people. The Woreda has only two health centers and 20 health posts. On the way we intercept herds of grazing camels, cows and sheep that the driver deftly dodges as they cross the road. We glimpse women, covered by Islamic headscarves, walking with heavy jerry cans in their hands. Water is the most precious resource: digging a well can cost 300,000 euros.
Gambella, kilometer 710
We are at the city's refugee center. The manager points out to us that in addition to the South Sudanese refugees, there are also nomads from other African countries who do not pass through Unhcr registration but are still being assisted. We cannot leave them alone. Later, a moment of serenity: a group of women invite us to participate in the "tea-talk," the tea ritual, which we sip, hot, accompanied by a handful of "kolo," a mixture of roasted barley-based grains. These are mothers, who give us a sweet song of thanks for what Cuamm is doing for them and their children.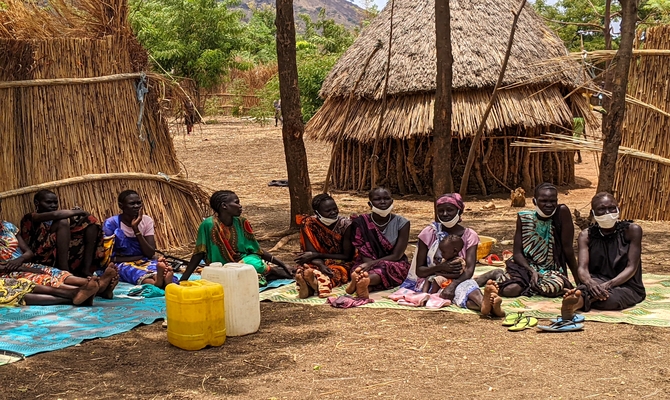 We move to the general hospital, where we experience the pain. Here the main problem for serious cases, which are transferred even 8 hours away from the region, is the lack of blood. Unfortunately, the Regional Blood Bank has no resources to activate awareness campaigns about the importance of transfusions. With the refugees, the population has grown to 1 million. One of the patients is a small refugee only 10 years old who does not respond to treatment, comatose from meningitis. The doctor decides on a transfer–eight hours of travel on rough roads for a comatose child with seizures. An obstacle course that will cost him his life.
It's the end of the mission, we return home: the tin roofs scattered between hills reflect the sunlight, as in a kaleidoscope, an expression of our conflicting emotions. We catch sight of the desert plain and it becomes clearer to us how those endless distances are, after all, all connected by little strips of red earth. Which we will not stop walking, with everyone's help.
Fabio Manenti is a medical surgeon and project manager, Marica Pilon is Ethiopia Project Desk Officer for Doctors with Africa Cuamm.
Related News