Elena and Chiara are two young midwives who chose to practice their profession in Africa. Elena left in mid-April and is currently in Wolisso, Ethiopia, thanks to a collaboration between the Rachelina Ambrosini Foundation, the University of Salerno and Doctors with Africa CUAMM. Chiara leaves today, May 5, World Midwife Day, and she will soon join Elena.
The midwife is the one who takes care of managing the delivery, assisting the mum and the newborn. This profession, often undervalued in the Western word, in Africa it is more essential than ever: it is necessary to enter the lives of women step by step, to learn about the traditions, the language, the living habits, and to respect them in order to help bring new lives into the world.
"The shifts in the hospital are intense, Wolisso's St. Luke records more than double the number of births compared to Italian birth centers – says Elena. We work 10-11 hours a day, and it is a real "training ground", a continuous stimulus. Ethiopian obstetricians immediately welcomed me into the team, never making me feel different. I rediscovered the beauty of diversity and the richness of those feelings that have no differences of borders or color". An example of sensitivity and hospitality, precious also in Western contexts, that are now multicultural. "In such a challenging environment, with dramatic stories of real suffering and discomfort, every day I learn the medicine of the senses: a real art, especially for obstetrics. Semiotics is a great wealth, which we often forget where everything is safer, modern and equipped. Here, the disease and the emergencies are on the agenda and the team is not always fully staffed. Often the gynecologist is elsewhere, and reaches hardly the delivery room. Therefore, the presence of obstetricians makes the difference. I am really proud to be part of this team".
Chiara, on the eve of her departure, tells us the reasons why she chose to leave: "Africa has always fascinated me and in my Italian experience I had the chance to witness the deliveries of some African women. I was very surprised by their naturalness and spontaneity in dealing with this delicate moment of life, as if they were able to listen to their body very deeply, something that we have lost a bit in the Western world. I chose to leave in order to better understand this aspect that is very intriguing to me. I expect to learn a lot, both humanly and professionally and to discover the origins of this profession that I love so much. I believe that experiences like the one I am about to undertake will give the chance to change the point of view, always providing a reason for growth".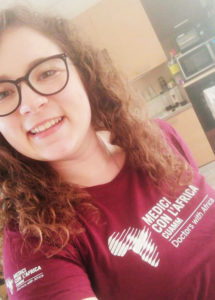 Elena, from Wolisso, seems to confirm Chiara's expectations: "It's an experience that is changing my way of seeing the world – concludes Elena. No more words are needed, it would be enough to look at my eyes, full of emotion. I can almost say that I am another person: I feel enriched, professionally and humanly. 'What you get from being in Africa is not even comparable to what you may give'. I can thus only say thank you. Ameseginalew, indeed".
Related News