"The first 1,000 days" project deals with future mothers and their children, from pregnancy to the first 2 years of life, in the rural districts of Balama and Montepuez, in the Province of Cabo Delgado, Mozambique. The intervention takes place at several levels: community, health centres and at the Montepuez hospital with the aim of increasing the demand for and access to quality health services, and reducing maternal and neonatal mortality. In particular, the project supports the maternity and neonatal wards and the operating room of the Montepuez hospital through health personnel (3 nurses, 1 doctor and 1 surgical technician), clinical assistance, medical equipment and disposable material. Refresher courses and training internships were held for the maternal and child health nurses of the two districts and the "health centre-community" link was strengthened with the involvement of the health committees of 30 villages.
In rural communities, the role of the traditional midwife is essential to encourage pregnant women to go to antenatal visits, to direct and accompany them to give birth in health facilities and to encourage them to go to check-ups after birth with their new-borns.
In this context, the "The first 1,000 days" project collaborated with the local health authorities to train 30 traditional midwives from 15 villages in the Balama district and 15 villages in the Montepuez district. In particular, traditional midwives have been trained to recognize situations at risk and complications in pregnant women and new-borns, promptly transferring patients with complications to health centres with specialized health personnel. The midwives were provided with: a telephone to alert the nurse at the health centre and request an ambulance, a flashlight, boots and raincoat to be operational 24 hours a day, in any season.
In the health area of Mirate, where the project trained 7 traditional midwives, in the first 10 months of the project over 40% of the women who gave birth in the health centre had been sent by traditional midwives. A really encouraging sign.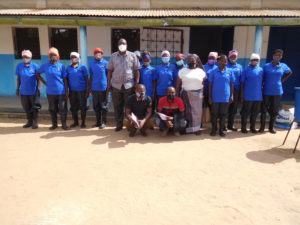 The intervention is part of the broader project "The first 1,000 days. Ensuring quality healthcare services for mothers and children in Cabo Delgado", financed by the Italian Agency for Development Cooperation (AICS) and implemented by Doctors with Africa Cuamm with AIFO, Wiwanana Foundation and Centro per la Salute del Bambino Onlus (CSB).
Related News