It is hard to describe the feelings of that time in just a few lines: astonishment and gratitude, trust and beauty, marvel and perseverance in doing good. The same future [lostessofuturo] is denied to so many women and children in Africa – the future that we are committed to building and rebuilding every day in the field. A broken red thread which is pieced back together through our personal and daily commitment. Only this way can we build a single future that is richer and more beautiful for everyone.
Every year.
SNAPSHOT 2019
Doctors with Africa CUAMM is currently active in 8 countries with:
23Hospitals
855Health facilities
4.777Human resources
201.119Attended births
539.672Pre and post natal visits
33.393Transfers for obstetric emergencies and births
7.211Children treated for acute malnutrition
4.831Health workers trained
31Scientific research publications
2.711.257Patients treated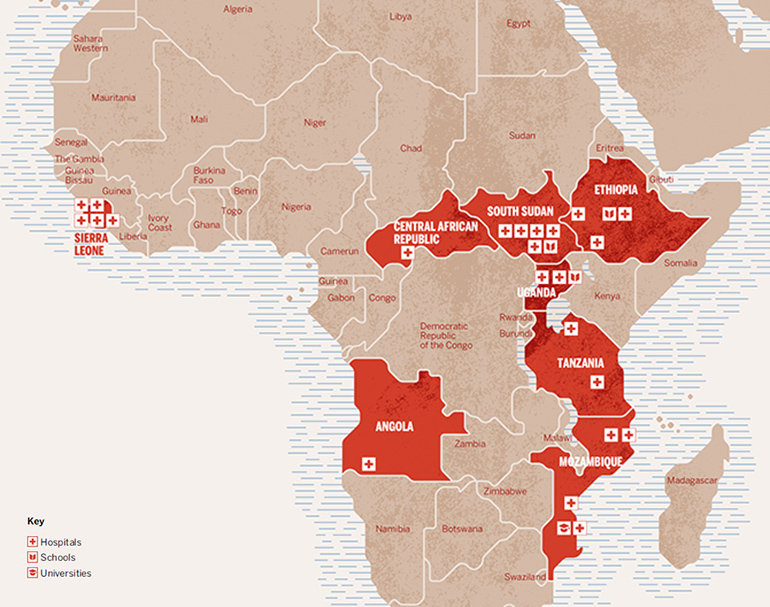 BUDGET 2019
In 2019, Doctors with Africa CUAMM NGO-NPO's expenses totalled €42,670,888. Out of this, 91.6% (€39,073,300) was invested in prevention, treatment and training projects in the countries where we operate. Operating costs account for 4.2%, and include the overall management of the organization, staff, amortization, financial expenses and taxation. Communication, awareness raising, and fundraising costs accounted for 4.2%, which includes events organization in Italy, publications, media relations, development education, donor engagement, new campaigns, and staff from the Communications, Community Relations and Fundraising departments.
How we raised funds in 2019

How we used the funds

HUMAN RESOURCES
In 2019, in the 8 African countries where we operate, CUAMM managed 4,777 human resources, with 2,556 of these under "extraordinary management" in South Sudan and 1,078 in Sierra Leone (see details). Out of the total number of human resources managed, 1,143 are staff involved in projects of which 851 are qualified professionals (not only health professionals, but also administrative, logistics and community experts), while 292 are support staff.
Staff serving in 2019