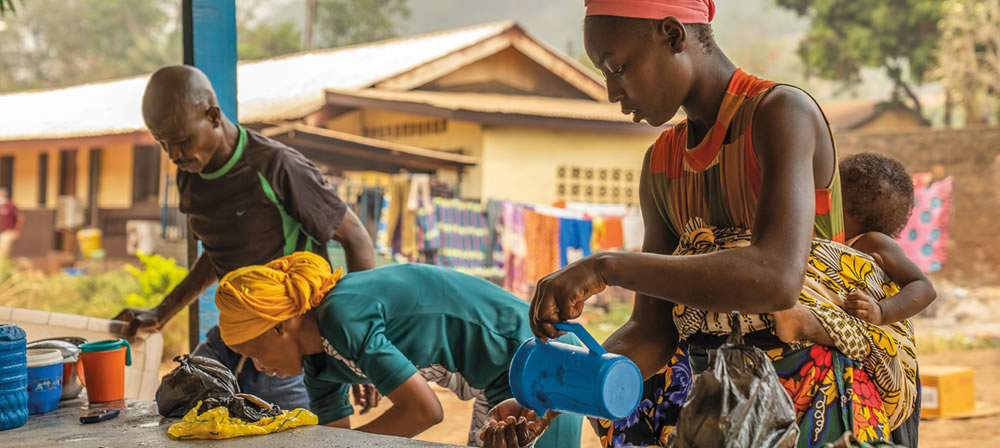 In 2021
2021 saw the continuation of CUAMM's support for the Central African Republic's Children's Hospital in Bangui in partnership with Action Contre la Faim (ACF) and Rome's Bambino Gesù Children's Hospital.
To counter the COVID-19 pandemic, Doctors with Africa CUAMM organized specific training courses for hospital staff and led community awareness-raising campaigns. We also set up hand-washing stations with water and soap at the pediatric hospital. CUAMM helped improve the care provided to children as well as the hospital's management and administrative capacity by organizing human resources and materials and collecting and processing health data to plan and evaluate the care provided. Our organization also took part in the payment of salaries, trained hospital staff and purchased drugs and lab supplies. In addition, we ensured the overall operation of hygiene services, logistic maintenance of the hospital, and the presence of specialized CUAMM doctors in order to guarantee round-the-clock quality pediatric care.
In partnership with the Ministry of Health and Population, CUAMM also supported the health system in the Bangui region in 2021 through the deployment of 8 ambulances in the urban areas of 13 districts, helping people to access emergency services, especially in cases of obstetric and pediatric complications, and as a result reducing maternal and child mortality and improving coordination between health centers and the hospital. To make the most of the ambulance initiative, Doctors with Africa CUAMM led a community awarenessraising campaign and trained the ambulance staff. We also provided the requisite equipment and medicines for the ambulances and organized periodic meetings to share the results of the initiative.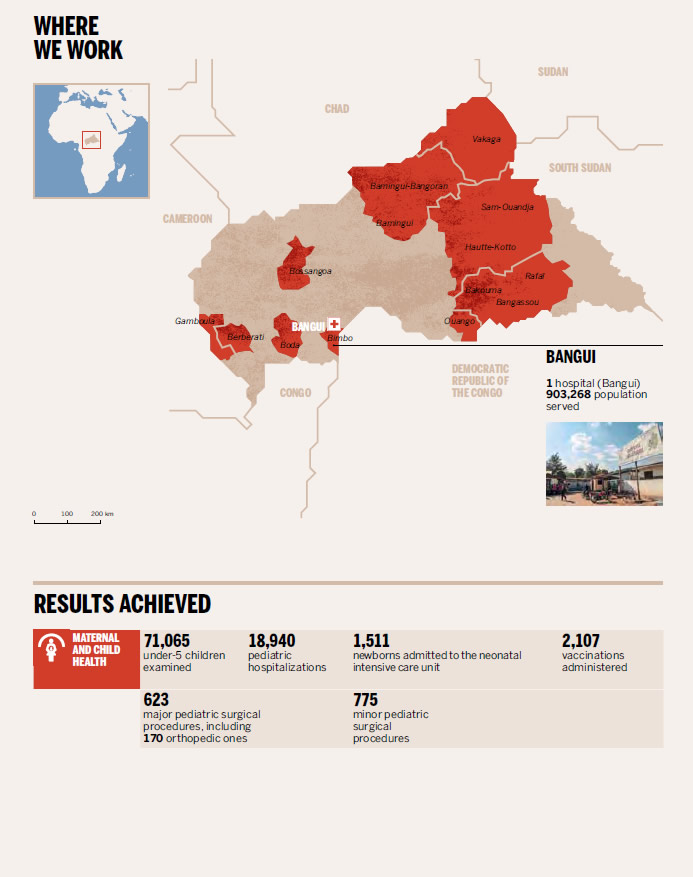 CENTRAL AFRICAN REPUBLIC
July 2018
Intervention begun at Bangui's pediatric complex.
August 2018
Giovanni Putoto, CUAMM's Head of Planning, meets with Central African Republic's President Faustin-Archange Touadéra at launch of project to support Children's Hospital in Bangui, funded in part by European Commission's Bêkou Trust Fund.
April 2019
Project Head Stefano Vicentini presents project activities and data from Children's Hospital in Bangui to Central African Republic's National Assembly.
November 2019
Visit by Pierre Somse, Central African Republic's Health Minister, and Stefano Manservisi, Director-General of DEVCO, to Children's Hospital in Bangui.
December 2019
European Commission's Bêkou Trust Fund renews its confidence in CUAMM and Action Contre la Faim (ACF), making it possible to continue partnership and activities with Children's Hospital in Bangui for another year.
2021
In partnership with OCHA, Bangui health referral system's eight ambulances made continuously operational.
Related News