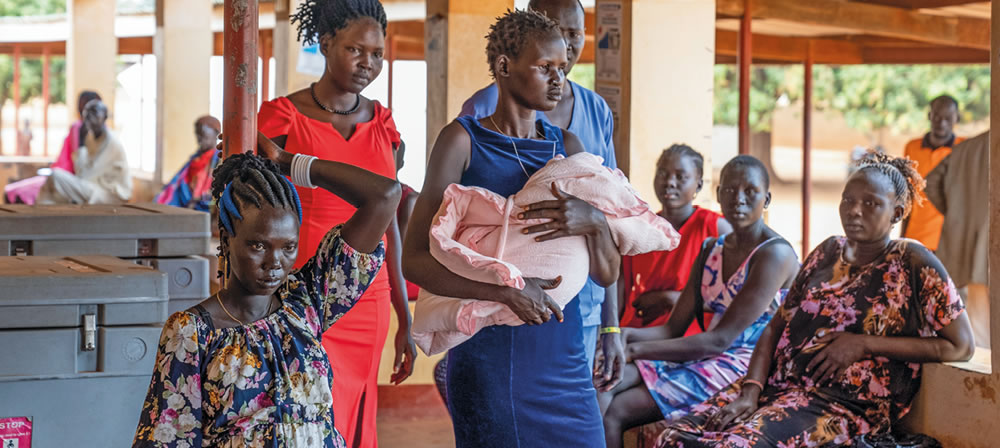 In 2021
Doctors with Africa CUAMM maintained its characteristic approach in South Sudan in 2021, providing integrated and comprehensive support to help strengthen the national system and build up the resiliency of local communities. More specifically, we provided support to 11 county health offices, 5 hospitals, and 135 peripheral health facilities.
A network of 413 nutrition workers was activated to integrate the diagnosis and treatment of acute, moderate and severe malnutrition, including the hospitalization of those with complications, at 50 different sites.
Nutritional support was also provided to AIDS and tuberculosis patients and their families through the mobilization and training of some 1,350 community agents, which helped ensure nutritional screening and the treatment of cases of malaria, diarrhea and pneumonia in the country's most remote regions.
Doctors with Africa CUAMM also supported vaccination drive volunteers and provided mobile health teams and a free ambulance service to enable a prompt response to the needs of those displaced by conflict and floods. In addition, we continued our efforts to help contain COVID-19 in 2021, taking the lead in the implementation of the country's vaccination campaign, initially at the hospital level and subsequently through outreach activities as well, helping get shots into the arms of 8,444 individuals, including 1,193 health staff, in the period from June to December 2021.
CUAMM also made good on its commitment to ensure appropriate working conditions at health facilities through staff training, the supply of protective equipment, improved hygiene, the reorganization of spaces, and new entry screening procedures. Isolation areas were set up at hospitals and support was provided to help decentralize the diagnostic process. Our organization also helped with outreach and awareness-raising efforts to help communities understand how to prevent and manage the spread of COVID-19 infection.
Lastly, CUAMM renewed its efforts to help train qualified local health staff, continuing our support of the Health Sciences Institute in Lui and strengthening our intervention at its counterpart in Rumbek.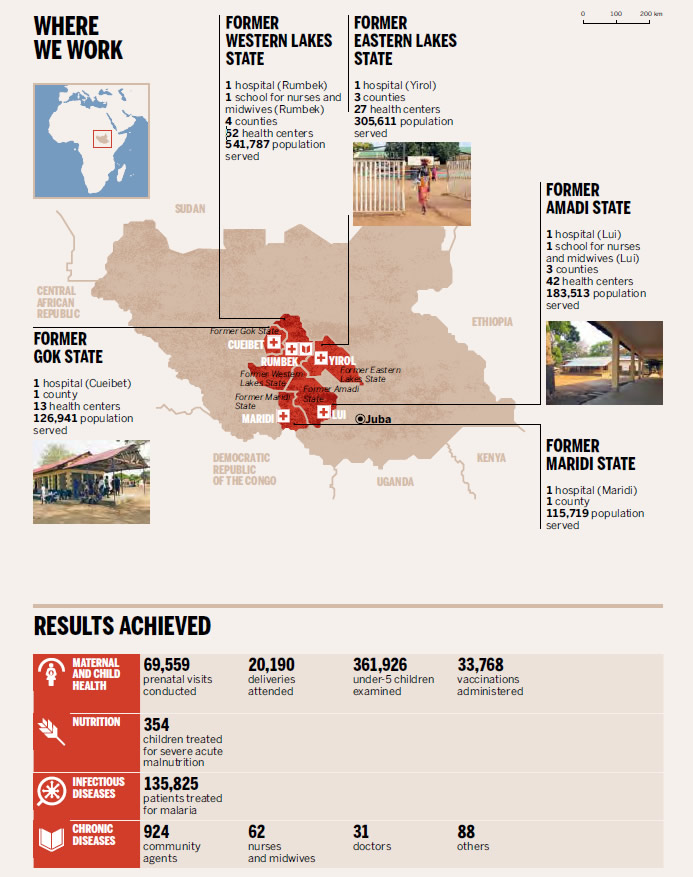 OUR HISTORY IN SOUTH SUDAN
2006/2012
Intervention launched at Yirol and Lui hospitals.
2013/2015
Public health program in Yirol West and Rumbek North. Cueibet health center given hospital status. Midwifery diploma course begun in Lui.
2015/2017
Public health program expanded throughout the former Lakes State. Intervention launched at hospital in Rumbek.
2017/2018
Response to the famine in former Unity State with an emergency intervention in the swampy areas near the Nyal Port. Public health program launched in 4 counties of former Western Equatoria State. Intervention begun at Maridi Hospital.
2019
Operating room completed in Nyal. New cycle of midwifery diploma course begun at the Lui Health Sciences Institute. Community health program begun: 640 community health workers in 8 counties.
2020
New pediatric ward at hospital in Rumbek completed and inaugurated. Community health program expanded to all 11 counties. Epilepsy clinic started up at Lui and Maridi hospitals and Mundri health center. Support begun for Rumbek Health Sciences Institute.
Related News