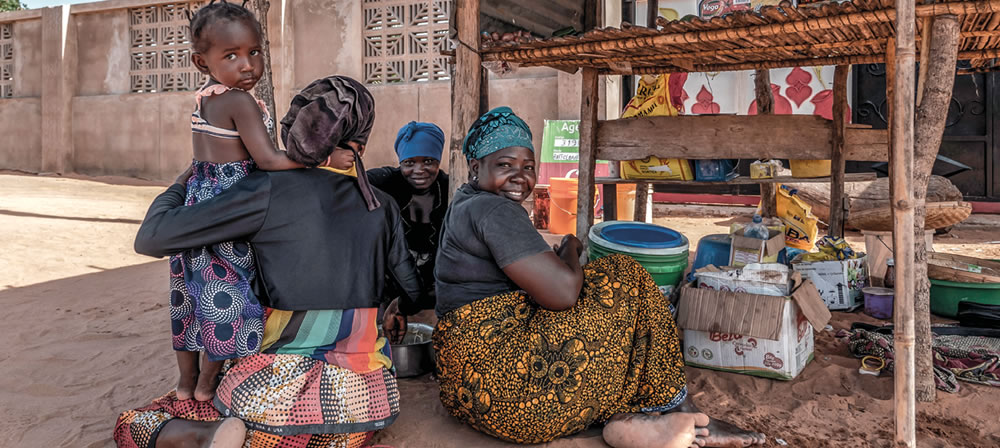 In 2021
2021 in Mozambique was marked not only by the COVID-19 pandemic, but also by a constant rise in terrorist attacks in the Cabo Delgado Province, the northernmost part of the country, where the number of internally displaced climbed to over 750,000 people out of a population of 1.2 million inhabitants. Doctors with Africa CUAMM helped develop a humanitarian response that incorporated our development programs already underway (with a special focus on maternal and child health), while simultaneously addressing the key needs of the displaced. Basic medical assistance services were provided to refugees in camps that did not provide them, as well as to the communities hosting the refugees.
Awareness-raising and informative activities on the most widespread endemic diseases – COVID-19, cholera, malaria and others – were conducted in 6 districts of Cabo Delgado, and a major project in support of mental health and displaced victims of gender violence was also started up.
Upon completion of the renovation work in 2021, the Beira Central Hospital's neonatal unit was officially inaugurated and made operational after Cyclone Idai ravaged it in March 2019.
On the COVID-19 front, Doctors with Africa CUAMM worked alongside local authorities to support the COVID-19 vaccination campaigns  in two Provinces: Tete and Sofala.
We also continued to implement our  adolescent sexual and reproductive health projects in Tete and our program to combat noncommunicable chronic diseases (diabetes, cervical cancer and hypertension) in Maputo, Sofala, Zambézia and Cabo Delgado.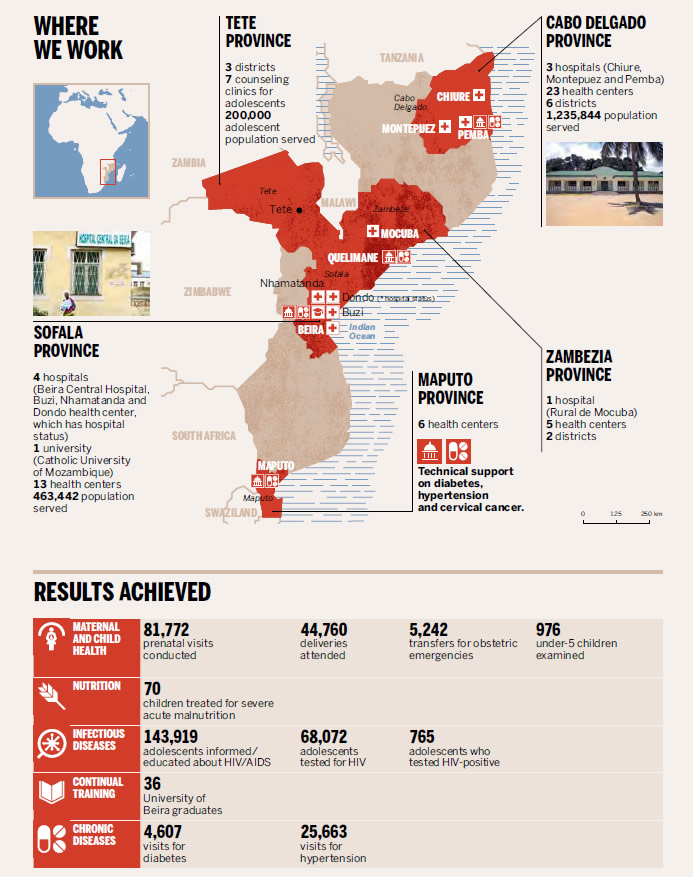 OUR HISTORY IN MOZAMBIQUE
1978
Launch of healthcare cooperation projects.
1992/97
Interventions for functional rehabilitation of health network in Sofala Province.
1997/2001
Support provided to Provincial Health Directorates (Sofala, Zambezia and Maputo).
2002
Support provided to Beira Central Hospital.
2004
Partnership with the Catholic University of Mozambique in Beira.
2014
Intervention in Cabo Delgado Province.
2016
"Mothers and Children First. The First 1,000 Days" program.
2017
Intervention in Tete Province to combat HIV/AIDS among the adolescent population; in addition, launch of program to fight noncommunicable diseases.
2018
Relations begun with Mozambique's Ministry of Health to draw up national guidelines on the management and treatment of diabetes and hypertension.
2019
Program to combat noncommunicable diseases begun at primary healthcare level and 4th-level hospitals. Sofala and Cabo Delgado Provinces severely damaged by tropical cyclones Idai and Kenneth.
Related News