On August 14th2018, Doctors with Africa CUAMM has inaugurated a new Neonatal Unit at Pope John XXIII Hospital, Aber, in Uganda. The unit can welcome sixteen new-borns and their mothers and it has been fully equipped to guarantee them quality health care. In a section of the unit called "Kangaroo Care Unit", mothers can practice the Kangaroo Mother Care, holding their baby in skin-to-skin contact, to keep the infant warm and safe when incubators are not available. In addition to equipping the unit with all necessary consumables, CUAMM will also address the human resources shortage by training health care staff to work in the unit and provide quality newborn care.
The opening function was officiated by Bishop Giuseppe Franzelli of Lira Diocese who noted that this was "a gift of God" with the help of people with the resources to make it possible. Indeed, the unit has been realized through the help of the Bagnoli Family, Barbara Tomasini e Stefano Zani (neonatologists from Siena), Caritas Firenze and the Center for Global Health in Florence, who worked in professional synergy to realize the project.
The neonatology unit in Aber Hospital is now a reality and quality health care can be provided from the very first day of a child's life.
Juliet Hildah
Communication Officer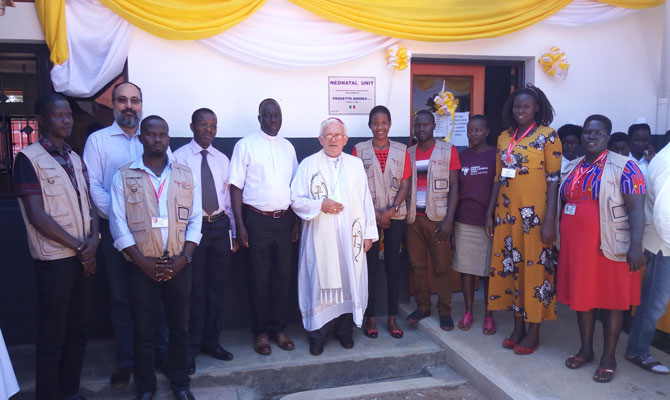 CUAMM staff in Aber and the Uganda Country Representative (4th left) Dr. Peter Lochoro pose before the new Neonatal unit with Bishop Giuseppe.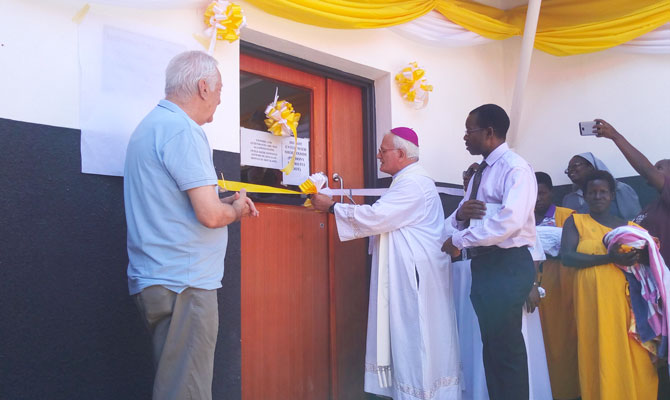 Ribbon cutting to enter the new unit by Bishop Giuseppe Franzelli with Deacon Carlo Bottai left and Dr Peter Lochoro right.
Ti potrebbe interessare anche