The Covid-19 epidemic has shown that we're all bound to one destiny.
Doctors with Africa CUAMM has taken action to support some healthcare facilities in Italy, while preparing to contrast and prevent the virus from spreading in Africa, where it could have ravaging effects.
IN AFRICA: FACING THE EPIDEMIC IN 23 HOSPITALS
The most urgent commitment is to secure the 23 hospitals that we support in 8 countries, ensuring:
Personal protective equipment (PPE) to healthcare staff and the operators involved in the emergency management
Personal protection equipment for cleaning staff and disinfectant materials for interiors
Minimum equipment for diagnosis and clinical management such as infrared thermometers to screen patients, oximeters to measure the status of blood oxygenation and oxygen concentrators for the supply of oxygen
Extraordinary commitment in the training of operators and the involvement of the communities, to promote proper behaviours and hygienic and protection norms.
The challenge is very high and adds to the effort to assure the ordinary planned activities to provide the essential care to mothers and children.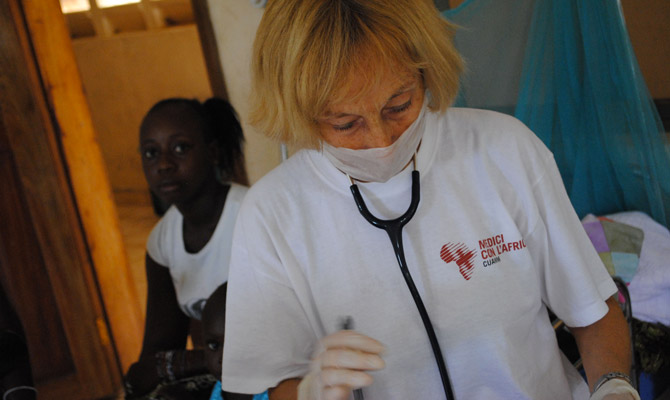 ---
DO YOUR PART!
15€    DISINFECTANT MATERIALS OF THE HEALTHCARE FACILITIES
Disinfectant detergents for interiors and waste bags for infected waste for 1 day
30€    PERSONAL PROTECTION EQUIPMENT KIT FOR HEALTHCARE STAFF
for 1 doctor or nurse for 1 day: mask, goggles, gloves, boots and alcoholic disinfectant solution
50€    TRAINING AND SALARY FOR A COMMUNITY ACTIVIST
100€  DIAGNOSIS AND CLINICAL MANAGEMENT OF THE PATIENT
Aid for the purchase of infrared thermometers, oximeters and oxygen concentrators
IN ITALY
4 ventilators for 4 hospitals
Doctors with Africa Cuamm has donated 4 ventilators to some of the healthcare facilities particularly affected by the epidemic:
The Schiavonia hospital (Padua) which has been recently declared "Covid hospital"
The Carate Brianza hospital (Milan)
The Parma hospital
The Cremona hospital
Professionals, who are first of all friends, work in each of these facilities and we wish to encourage and support them in their challenging engagement. These professionals are also our ambassadors, ensuring that our aid will be used for the right purpose.
An act of closeness, to give our thanks to many people and communities that in other moments of need on the field, in Africa, have never lacked attention, helpfulness and great generosity.
Related News