What we did in 2017
The tragic civil war in South Sudan is hurting women and children more than anyone, as they are forced to seek refuge in Nyal in inhospitable swamps along the Nile where there is less fighting but necessities of every sort are short. The stories our workers hear daily are of violence, trips on make-shift vehicles, and the struggle to find food and shelter. We have been active here for more than 10 years. We support five hospitals and 90 health facilities recognized as neutral places for the entire population. We could not stand idly by. We started our intervention in May in places where the crisis is most severe. We sought to support the existing health center and help people who are hiding in the islands, which now no connection or support at all.
At the health center
CUAMM sent a midwife of the Nuer ethnic group who knows the area, the language, and the customs well, making her able to relate effectively with local authorities and be accepted by the local people. The midwife supervises the team working inside and outside of the health center and will work in the operating room we are building. A group of laborers recruited in Nyal is already at work, coordinated by several specialized staff that we sent from the capital.
On the islands
A doctor was sent to Nyal to forge and strengthen relationships with local authorities, and together they chose four islands on which to build first aid posts. Four health workers were then assigned here who live with the communities and provide them basic assistance. Awaiting the completion of the buildings, the local population has provided several huts and helped gather piles, sand, and stones. This let us start providing outpatient visits and nutritional screening, and treat the most common diseases, such as malaria, diarrhea, and respiratory infections. Every worker has a basic kit of medicine, medical tools and a satellite telephone to notify their CUAMM contact before transferring critical patients.
Mobile clinics
We motorized and made functional a boat provided by the local authorities that we use to keep contact with and supply the first aid posts on the islands. We also purchased and brought to Nyal a vehicle suited to these rough roads with poor practicability, letting us transfer the most critical patients to the health center and transport construction materials and health and first aid supplies.
What we are doing
In South Sudan, Doctors with Africa CUAMM supports five hospitals, in Rumbek, Cuibet, Yirol, in the Lakes State, Maridi, and Lui, and 164 health facilities spread across 5 federal states and 12 counties. We give mobile vaccinations and health education, using motorcycles, in 836 area sites. In 2017, we provided 150,043 outpatient visits in hospitals and 826,126 in health care facilities. We provided 3,742 attended births in hospitals and 12,661 in the community. We are support a midwifery school in Lui and have an intervention in Nyal.
But this is not enough. To be truly effective, we need to a greater continuous presence, expanding the availability of services to include those seeking refuge far from home.
West Nile
A million refugees have poured into the West Nile region of Uganda, which has a local population of 1,700,000. A measles epidemic is underway here due to the many unvaccinated children and adults. We are already active here in 19 refugee camps and 6 districts with 257 health facilities at different levels. In 2018, we want to rehabilitate 24 facilities and train workers and 20 local activists. We are pursuing a Rehope Strategy, which means that the activities in areas where the refugees are living need to be integrated and should involve both resident and hosted communities.
What we can do with your help
Find practical future paths for these people. In South Sudan, with your contribution, we can provide the people mobile clinics with motorcycles and boats to act in emergencies. In the West Nile, we can set up 24 new health facilities. We need to respond to the health needs in these places, reinforce existing facilities, create new ones and bring equipment and vehicles, and train qualified personnel. These are the needs we want to meet: from buying a mosquito net to protect a mother from malaria to providing vaccines to stop an epidemic. Your help makes the difference.
South Sudan Emergencies: the numbers behind the crisis
a population of 12 million
7 million people who will need humanitarian assistance in 2018
2 million displaced people within the country's borders
3 million refugees in neighboring states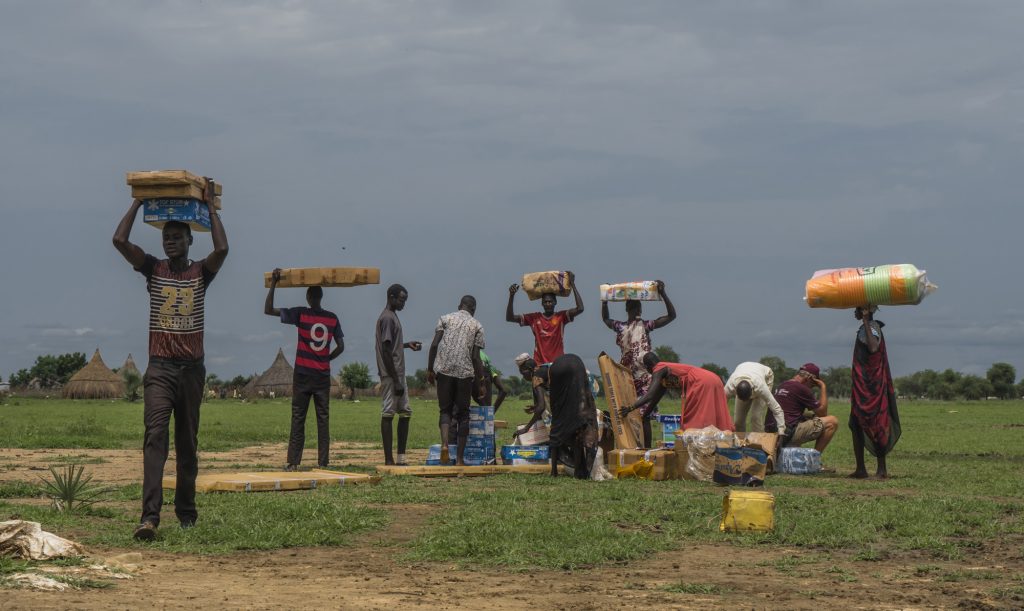 Support our action in South Sudan:
With €5, you can give
A MOSQUITO NET AGAINST MALARIA
With €10, you can give
With €30, you can give
A BOAT TRANSFER FOR ONE PATIENT
With €60, you can give
With €150, you can support the
REHABILITATION OF THE WEST NILE HEALTH CENTER
With €300, you can give
A TRIP FOR SCREENING AND NUTRITIONAL ASSISTANCE
[related_posts_by_tax posts_per_page="4" columns="4" format="thumbnails" image_size="small" title="Related News" ]